ATHENS, January 25 (Sputnik) — Greece's Coalition of the Radical Left party, commonly known by its acronym Syriza, has garnered enough votes to form a government on its own, according to exit polls data obtained by RIA Novosti on Sunday.
Greek leftist party Syriza backed by 35.5% to 39.5% of vote, according to exit poll http://t.co/yMaCiOIYN9

— WSJ Breaking News (@WSJbreakingnews) 25 января 2015
The center-right New Democracy party, led by current Prime Minister Antonis Samaras, has received 25 percent of votes and is followed by the far-right Golden Dawn party, which has gained about 6 percent. A total of seven parties have managed to pass the 3-percent threshold.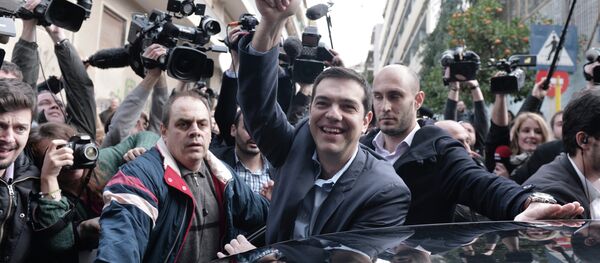 25 January 2015, 10:12 GMT
The decision to hold early legislative elections in Greece was announced in December 2014, after the country's parliament failed to elect a new president.
Siryza has vowed to revise Greece's austerity measures, aimed to meet the bailout conditions set by international creditors in exchange for multibillion euro loans issued over Greece's sovereign debt crisis.