MOSCOW, January 25 (Sputnik) – The leader of Greece's Syriza party, tipped by exit polls to win the election currently being held in the country, true to his socialist leanings calls home a modest apartment in an average Athens neighbourhood, Greek media reports.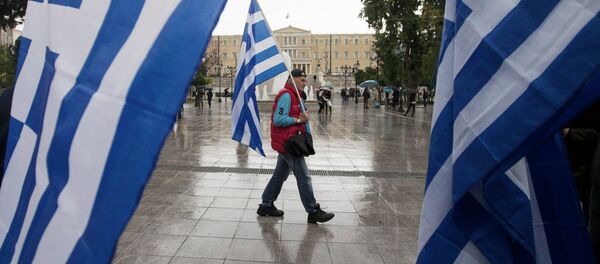 24 January 2015, 14:11 GMT
Alexis Tsipras "lives with his partner and two children in a beige-colored block of flats in the modest, working-class district of Kyspeli, Athens, at 4a Harmony Street," reports Greek news website protothema.com. "His seven-storey apartment block overlooks an empty lot full of rubbish and two abandoned cottages," describes the report, adding that "the walls of the streets where he lives are covered with graffiti scrawled with politically-tinged messages."
The down-to-earth style of Tsipras, 40, may hold the key to the popularity of the man whose party is currently leading in exit polls and on course to head the country's next government with a left-wing anti-austerity policy program.
The Telegraph reports that neighbours of Tsipras, whose youngest son's middle name is Ernesto, after Che Guevara, said the politician does not stand out from the rest of the residents. "He comes and goes mostly in a car," marketing manager Kostas Stroubis told the paper. "We're wondering whether he will move somewhere smarter if he becomes prime minister."
"Tsipras understands the tragic situation that Greece is in," one man, a former taxi driver, said. "He wants to lift the bestial pressure that has been placed on us by the bankers."
Tsipras, who trained as an engineer, first cut his political teeth in 1990 when, having joined the Communist youth movement, he took part in protests against education reforms and became one of the main negotiators with the government on behalf of student protestors. According to Greek pollsters, on Sunday evening Syriza, named the 'Coalition of the Radical Left,' was forecast to win 150 seats, one short of an outright majority.