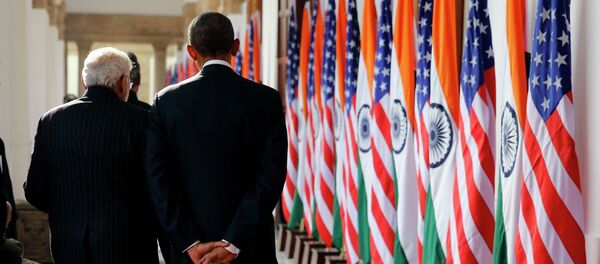 25 January 2015, 10:42 GMT
NEW DELHI, January 26 (Sputnik) — India's 66th Republic Day military parade, underway Monday in New Delhi, is featuring mostly Russian-made weapons.
The chief guest at the event, US President Barack Obama, who arrived in India for a three-day visit on Sunday, had a front-row seat at a display of India's military hardware, primarily of Russian design and manufacture.
T-90 "Bhishma" main battle tanks were the first to roll through the Rajpath ceremonial boulevard. They were followed by medium-range surface-to-air Akash missiles, medium-range high-resolution 3D surveillance central acquisition radars (CAR), and Pinaka multiple rocket launchers.
Among the jointly made Russia-India products on display at the Republic Day parade are BrahMos, one of the world's fastest short-range supersonic cruise missiles, capable of flying at speeds up to Mach 3; and the Sukhoi Su-30MKI (Flanker-H) fighter jet developed by the Sukhoi Design Bureau and built by Hindustan Aeronautics Limited.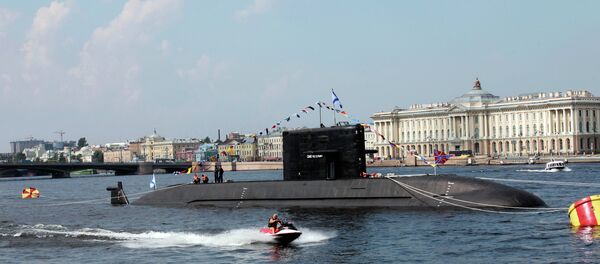 21 January 2015, 16:15 GMT
On the naval front, the Russian-made carrier-based Mikoyan MIG-29K multirole fighters and India's newest warship, the INS Kolkata, were also on display at the Republic Day ceremony.
India is Russia's largest importer of military equipment, with $4.8-billion worth of weapons and hardware supplied in 2013.
January 26, 1950 marks the day when the Constitution of independent India came into force. Every year, India invites a chief guest for the event. Obama is the first US president to serve as guest of honor.