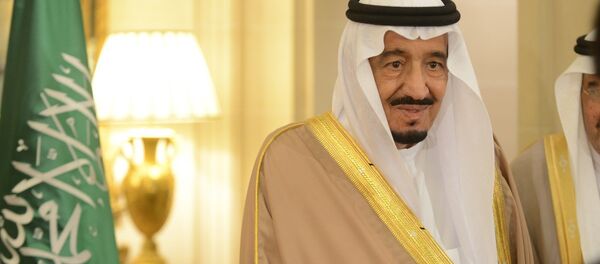 23 January 2015, 11:17 GMT
MOSCOW, January 26 (Sputnik), Ekaterina Blinova – Mousa bin Saeed Ali al-Zahrani, a teacher convicted of kidnapping and raping several underage girls was publicly beheaded in the Saudi city of Jiddah.
"Mousa bin Saeed Ali al-Zahrani lured several underage girls and kidnapped them. He also threatened them and their relatives and physically assaulted them in his home. He raped them, detained them, forced them to drink alcohol, and forced some to watch pornographic material," Middle East Eye reported citing the Saudi Press Agency.
The online news agency emphasizes that al-Zahrani pleaded not guilty and insisted he was convicted in a "sham trial." His relatives appealed to then King Abdullah, asking him to drop death penalty against Mousa bin Saeed Ali al-Zahrani. In response to their plea, Saudi authorities promised to re-investigate the case carefully. However, on January 23, when the king died, the family of al-Zahrani was notified that in accordance with the new order the teacher would be beheaded on Monday, January 26.
The media outlet noted that in April 2014, al-Zahrani uploaded a video onto YouTube, claiming he was innocent, and asking authorities to reconsider the severe verdict.
"I plead my innocence and swear to God that neither my religion nor my education, knowledge, age, fatherhood or upbringing allow me to even think of committing such an act, which can only come from ribald and mentally ill people," said the teacher and father of six.
"I strongly deny all that I am accused of. It is all unjust fabrication of the truth. The accusations I am being subjected to are not acceptable in our religion. They are malicious and have been magnified and manipulated," he added as cited by Middle East Eye.
Reportedly, the man was arrested by a relative of one of the alleged victims, who could have been acting out of blind prejudice.
The execution has attracted a great deal of social media attention worldwide.
It should be noted that the number of beheaded in Saudi Arabia in 2015 has already reached 16 people, while 87 were decapitated in 2014.