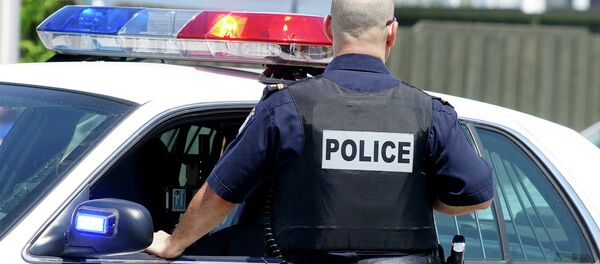 22 January 2015, 07:36 GMT
MOSCOW, January 29 (Sputnik) — Jeff Roorda, Democratic member of the Missouri House of Representatives in the US state of Missouri, in an abrupt attempt to press a political point with an opponent, pushed aside a black woman at a public meeting at St. Louis City Hall, local KMOV TV channel reported Thursday.
"I was literally just trying to leave the meeting and I got caught in whatever Roorda and Kennedy had going on in their exchange. Roorda just jumped out into the aisle, pushed me over, and tried to get to Kennedy. I'm like 'wait a minute, don't push me.' Then he started going off on me, pushing me," Cachet Currie, the woman who claims to have been pushed by Roorda, was quoted as saying by KMOV.
According to St. Louis media, the row between Roorda, who is also a business manager of the Police Officer's Association of St. Louis, and public safety committee chairman Alderman Terry Kennedy, arose during an open meeting on the creation of a civilian oversight board of the police department on Wednesday night.
Several videos and photos posted online by those present at the St. Louis City Hall also showed that Roorda stood up and tried to move through the crowd toward the front of the premises. Eyewitnesses said Roorda pushed Currie, who was standing in his way at that moment, and scratched her face.
The news came amid the public debate to establish a police review board in St. Louis, Missouri. If the proposed bill passes, the St. Louis Civilian Oversight Board would be empowered to investigate cases of police misconduct and assess police operations, as well as make recommendations.
Ferguson, a suburb of St. Louis, made headlines after white police officer Darren Wilson shot dead unarmed 18-year-old black teenager Michael Brown in August 2014. Following a grand jury decision not to charge Wilson with the fatal shooting in November, nationwide protests calling attention to police brutality sparked across the United States.
According to images of Wednesday's St. Louis City Hall brawl, shared on social media, Roorda wore a bracelet saying "I am Darren Wilson."