29 January 2015, 10:19 GMT
KIEV, January 29 (Sputnik) – Ukraine has recruited some 45,000 draftees in the first nine days of mobilization, Ukrainian President Petro Poroshenko said Thursday.
Ukraine plans to hold three waves of mobilization this year. The first one, intended to draft 50,000 conscripts, began on January 20 and will last 90 days. The second will begin in April.
"A total of 45,000 potential servicemen have passed medical checks and have been officially recruited and sent to training centers," Poroshenko said. "The mobilization goes as planned."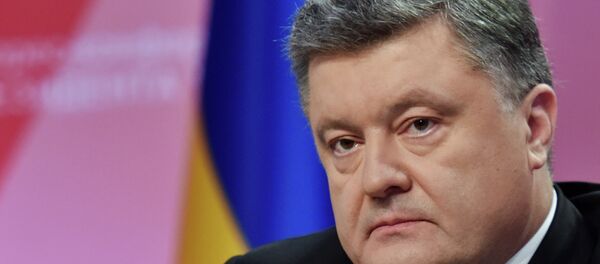 19 January 2015, 13:13 GMT
Col. Oleksandr Pravdyvets, deputy chief of the mobilization unit at the Ukrainian Army General Staff Mobilization Department, said the country currently had no statistics on draft dodgers.
"However, regional recruiting offices were tasked with compiling lists [of draft dodgers] and hand them over to regional police departments before March 3," he said.
The Ukrainian leader also said that the armed forces were holding back attacks by pro-independence forces in the country's southeast, taking steps to strengthen the defense.
Earlier this week, Russian President Vladimir Putin noted that many Ukrainians were dodging the mobilization by leaving for Russia to avoid being sent to the conflict zone as "cannon fodder."
Following the president's remarks, the Russian Federal Migration Service extended the maximum period of stay in Russia for Ukrainian citizens of military age to 90 days, with the opportunity of prolonging the stay.