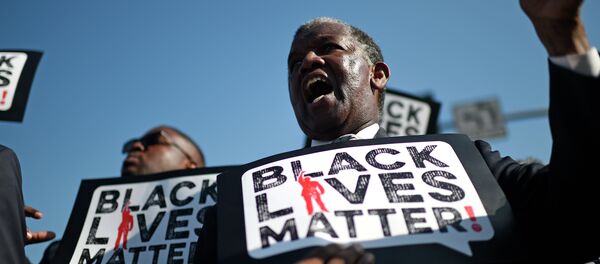 20 January 2015, 10:30 GMT
MOSCOW, January 30 (Sputnik) – The family of Akai Gurley, an unarmed black American who was fatally shot by New York police officers in the stairwell of a Brooklyn housing project in November 2014, has filed a $50 million claim against New York City, the New York Police Department (NYPD) and the two police officers who were on duty.
A separate claim was filed against the New York Housing Authority.
The claims have been filed by Kimberly Ballinger, Gurley's live-in girlfriend and the mother of his two-year-old daughter.
"The shooting death of Akai by the police was reckless and should not have happened," AP quotes Ballinger as saying at a news conference on Thursday. "Akai was a great father and a good person who didn't deserve to die like he did."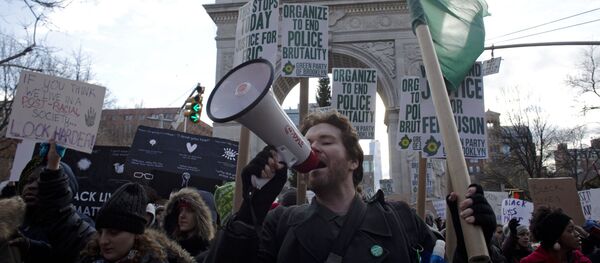 13 December 2014, 20:59 GMT
Gurley, 28, was killed on November 20, 2014 by police officer Peter Liang, who was patrolling a dark stairwell of the Louis H. Pink houses in Brooklyn with his partner Shaun Landau.  Gurley and his girlfriend opened a door into the stairwell, and Liang fired without a word and apparently by accident, AP quotes the police as saying. Police Commissioner William Bratton has said Gurley was "totally innocent."
Gurley's family is now seeking $50 million plus attorney's fees for Gurley's death, according to the claim.
"In this case, with no crime in progress, there was no reason why a police officer would have his weapon out and his finger on the trigger," Scott Rynecki, the attorney representing the family, told the Guardian.
The city can now choose whether to opt for a hearing, or move straight to the lawsuit.
The city's Law Department has called it a tragic incident and said the city will review the claim.
A separate notice was filed against the housing authority, which is responsible for maintaining public housing in New York City.
"There are certain codes and statutes that require a certain amount of lighting, and from what we've devised these were darkened stairwells. Obviously they were not properly maintained by the housing authority," attorney Scott Rynecki explained.
The accident was one of several incidents involving the death of black men at the hands of white police officers which sparked mass protests across the US in 2014. These also included the shooting of Michael Brown in Ferguson, Missouri, and the chokehold death of Eric Garner by a New York City police officer who was trying to arrest him for selling contraband cigarettes in July.