WASHINGTON (Sputnik) — US training for the Ukrainian military is underway and being directed from NATO and the US Embassy in Kiev, former top US Pentagon official Jan Lodal said at an Atlantic Council conference.
"There is quite a bit of American effort underway, some of it from NATO and some of it from the embassy in Ukraine," Lodal said Monday of US military training being given to Ukrainian officers. For US specialists to provide the additional training being considered, Lodal commented, "Americans would have to be in Ukraine to do this additional training."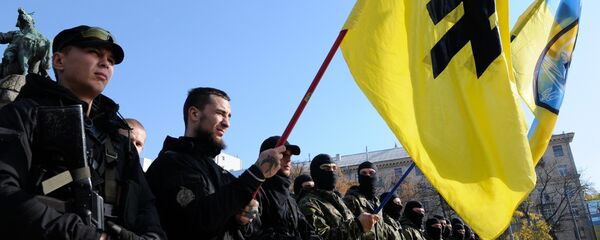 28 January 2015, 14:12 GMT
Lodal, who served as the Principal Deputy Under Secretary of Defense for Policy, and was also a senior staff member of the National Security Council, is part of a team of former US officials who drafted a report calling on the US government to provide lethal and non-lethal military aid to Ukraine.
Former US ambassador to Ukraine Steven Pifer verified Lodal's statements at the Atlantic Council saying that US personnel are already "training four battalions of Ukrainian National Guard." Pifer, who is also an author of the report, stated that the training is taking place in Ukraine's far west, near the border with Poland "well away from the conflict zone."
Former Pentagon official, Lodal further commented that the United States already has "an infrastructure there," which should be able to handle the "additional" and "stepped up" military training, which is being recommended in the report released by the former US officials. According to the experts' report, the training would mostly deal with operating new defensive weapons system and improving command and control.
Asked whether additional US training would take place in Ukraine or if officers would be brought to the United States, Lodal acknowledged he was uncertain "whether it would be possible to bring some Ukrainian officers or officials to the United States."
Since last year, the United States has provided Ukraine with radar systems and has put military advisors and special forces on the ground in Ukraine, according to statement this past summer by US European Command.
The White House announced Monday it is still assessing its policies regarding providing lethal and other military assistance to the government in Ukraine.