MOSCOW (Sputnik) – Gold prices continued their rally Wednesday as investor confidence is growing that Athens' protracted standoff with the troika of international lenders is finally over.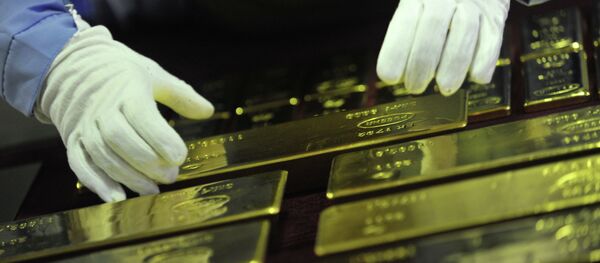 3 February 2015, 12:36 GMT
Gold for April delivery went up $2.5 (0.20%) to hit $1,262.80 per ounce. Silver futures for March showed a downward trend, though, slipping 0.06% to $17.32 per ounce.
Greece's new government has proposed ending the standoff with its international creditors by swapping its outstanding
debt for new growth-linked bonds, Finance Minister Yanis Vardoulakis was quoted by the Financial Times as saying on Monday.
The newspaper reported that the proposed plan would include two types of new bonds. The first type will be indexed to nominal economic growth and could replace the European rescue loans, while the second would replace Greek bonds owned by the European Central Bank.
Vardoulakis later told Italian media that his country's hard-hitting crisis could end as early as in June this year.
Analysts believe that the ongoing financial stabilization in Greece, has lifted investors' risk appetite and they are now looking to buy up Greek equities.
"Appetite for risk now appears higher and that is spurring some rotation of funds away from the safe havens in the yen and gold to riskier assets such as equities and the euro. Barring any downside black swan events, it is now increasingly unlikely that we could see gold racing for $1,300 again in the near future," Phillip Futures investment analyst Howie Lee told Reuters.