CCTV footage secretly hidden in a North Yorkshire abattoir showed a series of abuses against sheep, with workers repeatedly hacking at the throats of some animals, throwing them into solid structures and kicking them in the face.
The three-day undercover operation at Bowood abattoir, undertaken by animal rights group Animal Aid, has increased calls for greater controls to be placed on the slaughter industry, with some calling for the banning of the religious slaughter of sheep.
Under British law, slaughterhouses are required to stun animals before they are killed. 
© Photo : Animal Aid video screen grab
Secretly hidden CCTV in North Yorkshire slaughterhouse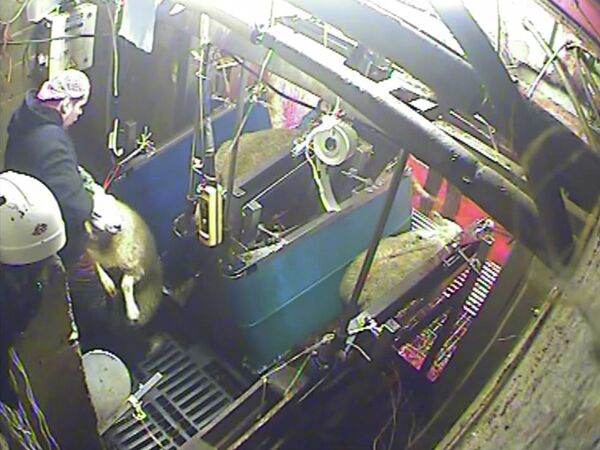 Secretly hidden CCTV in North Yorkshire slaughterhouse
© Photo : Animal Aid video screen grab
There are exceptions for Jewish and Muslim food producers in respect of their religious traditions. For meat to be considered halal under Islamic law and kosher under Jewish law, animals must be conscious when killed.
However, the released footage shows the workers were in severe breach of the halal food code, which stipulates that animals should be killed quickly with one sweep of the knife and that the animals shouldn't see the knife.
Four workers at the abattoir have had their licenses suspended by the Food Standards Agency (FSA), with fears this incident may be one of many similar examples showcasing animal brutality.
Calls for compulsory CCTV
Animal Aid, which claims to have uncovered the mistreatment of animals in nine slaughterhouses since 2009, says the government should introduce compulsory CCTV monitoring in abattoirs to prevent further abuse.
Kate Fowler, Head of Campaigns at Animal Aid believes more needs to be done to prevent similar incidents in the future.
"The vicious attacks on defenceless, frightened animals at Bowood are inexcusable. None of the abuses we uncovered would have come to light without our cameras being in place, even though there is a government-appointed vet at each slaughterhouse.
"Since our first investigation in 2009, we have been calling on the government to make independently monitored CCTV cameras compulsory for slaughterhouses, and yet — despite our evidence of widespread, violent attacks on animals — it resolutely refuses," she added.
Will banning religious slaughter help?
Philip Lymbery, CEO of the charity Compassion in World Farming, has gone one step further, calling for religious slaughter practices to be banned in the UK.
"I am shocked by the abhorrent cruelty to animals shown in the slaughterhouse in question. Whilst I fully support Animal Aid's call for mandatory CCTV in abattoirs, what we need is for the government to close the loophole and ban slaughter without stunning.
"Consumers expect all farm animals to be killed in the most humane way possible; all animals should be stunned before they are killed."
The government has repeatedly said it has no intention of introducing tougher controls on the production of halal and kosher meat in the UK, and is opposed to banning the practice of slaughtering animals without being stunned first.
However, those involved in the Islamic and Jewish preparation of meat say that the abuse of sheep isn't a result of religious practices, with the Halal Food Authority (HFA) noting that the animals were abused well before they were killed.
The HFA has condemned the behaviour of the men involved, saying that the problems of animal torture are industry-wide and not restricted to halal abattoirs, and has renewed calls for compulsory CCTV to be introduced.