Road danger awareness group Stop Killing Cyclists is planning the vigil in response to the death of a cyclist who was killed after being hit by a lorry earlier this week in Homerton, East London.
The vigil will follow a similar 'die-in' protest held last week in response to the death of another cyclist.
The group will be holding the vigil to raise awareness about the dangers of cycling in London, and in particular increase calls for "the need for space and decent infrastructure for cyclists."
© Flickr / Dick Jones
Lie down in memory of road traffic accident victims in London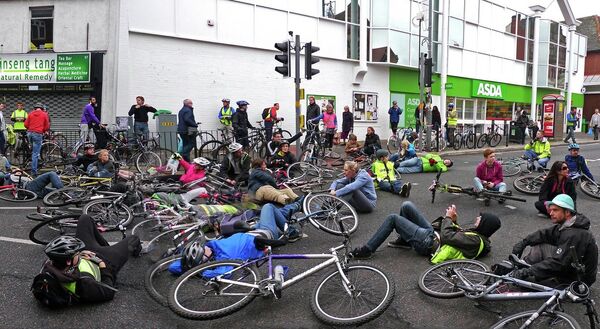 Lie down in memory of road traffic accident victims in London
There have been particular safety concerns raised over lorries in London, with cycling advocates saying that although lorries only make up 4 per cent of London's traffic, they are responsible for close to half of all cycling-related deaths. 
Donnachadh McCarthy, co-founder of Stop Killing Cyclists, says more needs to be done to protect cyclists in London, with Transport for London (TfL) expected to rubber stamp plans to build segregated cycle lanes across the city.
"What is happening here is good for business: in every single city that has installed segregated protected cycle lanes, the congestion has gone down. Why? Because people are switching from cars to bikes. 
"Every person that switches from a car to a bicycle is taking congestion off London's roads. That is good for business in 2 ways: one it means there is more room for the business traffic and secondly it reduces the impact on the employees of the businesses."
London mayor Boris Johnson has been a strong advocate for increasing cycling participation rates in the city, but has come under criticism following the release of the figures regarding cycling-related deaths.
Thirteen cyclists died on London's roads in 2014, including a two week period in November where five people died in cycling-related incidents, further increasing calls for safe and segregated bike lanes across the city.