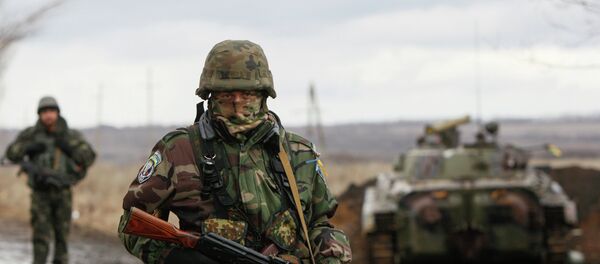 4 February 2015, 16:26 GMT
LUHANSK (Sputnik) – Kiev forces opened fire on civilians and journalists being evacuated from the city of Chornukhyne in the country's east leaving at least one person injured, the Luhansk Information Center said Friday.
"Russian journalists Dmitry Malyshev and Artyom Kol were also fired upon," the center reported.
According to one of the correspondents who came under fire, the refugees in Luhansk region were attacked by Kiev volunteer battalion Aydar members.
"They [battalion], began firing at civilians who left this village, as well as at anything that moves… One local resident was wounded in his leg, but luckily he lost little blood," journalist Artyom Kol told Russian TV channel Rossiya-24.

5 February 2015, 20:33 GMT
On Thursday it was reported that Kiev had accepted a proposal by the authorities of the self-proclaimed Donetsk People's Republic (DPR) to establish a fully-fledged ceasefire in the contested Debaltseve area on Friday to ensure the safe evacuation of civilians from the combat zone. Earlier, the head of the OSCE Special Monitoring Mission to Ukraine (SMM) urged all sides of the Ukrainian conflict to establish a temporary ceasefire agreement that would allow for the creation of humanitarian corridors in areas affected by deadly military action, especially around Debaltseve.
Kiev-led troops and independence fighters in eastern Ukraine have traded blame for fatal shelling incidents in the region in recent weeks. The attacks killed dozens and wounded hundreds of civilians in conflict-torn cities of Donetsk, Mariupol and Debaltseve, a key rail junction, which has been a hot spot of violence.
Prior to the latest agreement, violations of the September, 2014 Minsk ceasefire deal have continued unabated since the start of 2015, which saw intensified fighting between independence supporters and Kiev forces that launched a military operation in Ukraine's southeast in mid-April last year.