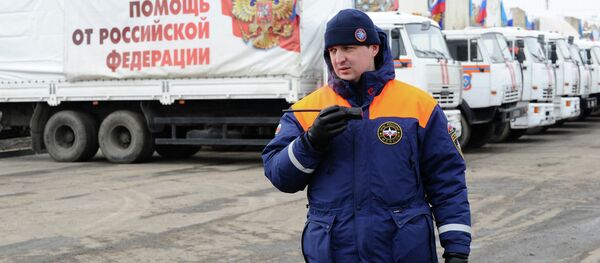 7 February 2015, 11:47 GMT
MOSCOW, (Sputnik)
–
The convoy comprises over 170 vehicles, which will deliver over 1,800 tonnes of humanitarian aid to the war-torn regions, according to the ministry. Food, necessary items, building materials and other necessities will be brought to Donetsk and Luhansk.
"The humanitarian convoy will divide in two. Over 100 vehicles will be a part of the one delivering more than 1,100 tonnes of humanitarian aid to Donetsk, 70 vehicles will bring to Luhansk over 700 tonnes of humanitarian cargo," Oleg Voronov said.
At 4:00 a.m. Moscow time (1:00 a.m. GMT) the convoy left Don Rescue Center of Russian Emergencies Ministry and began moving towards the state border.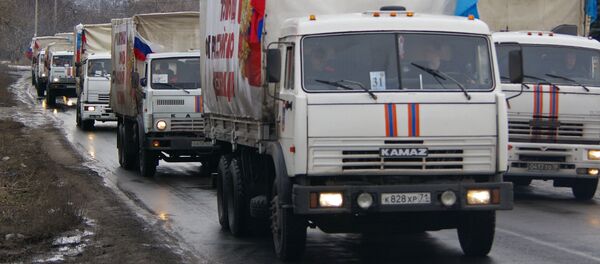 1 February 2015, 17:10 GMT
The 14th convoy to Donbas will be sent on February 15, according to the ministry.
Ukraine's eastern regions of Donetsk and Luhansk have been suffering from a severe humanitarian crisis since April of the last year, when Kiev launched a military operation against local independence supporters.
Since last August, Russia's Emergencies Ministry sent 12 aid convoys, delivering more than 16,000 tonnes of humanitarian aid to the region.