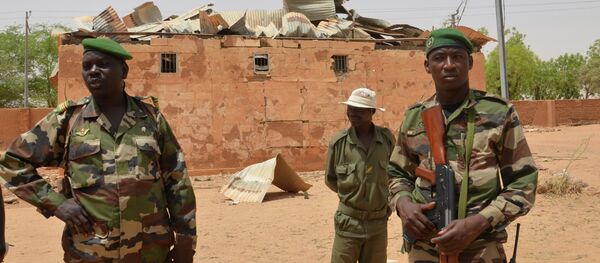 8 February 2015, 09:55 GMT
A Boko Haram bomb attack on the Niger border town of Diffa killed at least 5people after Niger's army repelled an attack by the group on Sunday, according to Reuters.
"We have carried five dead bodies out of the market. There are around 15 wounded, some of them in a serious condition," a local emergency services worker told the agency.
The attack took place several hours after the Nigerien army repelled a Boko Haram assault on the town at around 5 a.m. local time on Sunday, AP reported.
On Friday, neighboring Niger's armed forces claimed that 109 Boko Haram fighters were killed after the group attacked the country's border towns. The attack followed Niger's decision on Thursday to commit troops to the struggle against the group.
On Saturday, Niger, Nigeria, Cameroon and Chad pledged to deploy 8,700 troops, police and civilian personnel in the struggle against Boko Haram.