'Honour' based violence is a culture of shame in faith-based communities that is so powerful it stops victims from speaking out. Not reporting the crime to their community leaves the victim more vulnerable to abuse.
An 'honour' killing is the most extreme force of 'honour' based violence and occurs usually when a daughter or wife is thought to have brought shame upon a family. The only way to restore such 'honour' is by killing the wife, sister or daughter who is responsible for discrediting the family.
It's estimated 12 'honour' killings take place in the UK every year.
However, cuts to public funding for refuges and a failure by police forces to properly record 'honour' crime, means the sexual and physical abuse of women in Britain's ethnic faith based communities remains underreported — and under resourced.
The Iranian and Kurdish Women's Rights Organisation was founded in 2002 by Diana Nammi to give protection and a voice to Middle Eastern and Afghan women and girls at risk of 'honour' based violence; including forced marriage, female genital mutilation and domestic violence.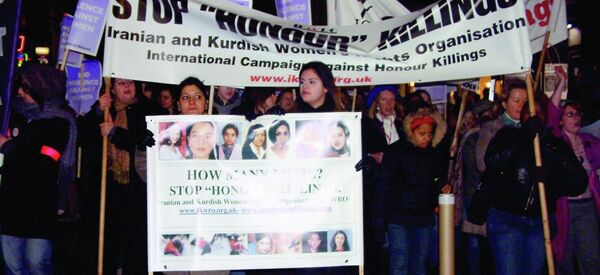 15 January 2015, 11:55 GMT
The majority of women and girls seeking IKWRO's services are of Iranian, Arabic, Afghan, Kurdish and Turkish descent. Despite public funding for refuges being cut by the central government, demands from these women have increased greatly in the past year.
In response to the increase in need, IKWRO is funding Europe's first specialist refuge for Middle Eastern and North African women in London.
"In the past few years, public funding for refuges has been cut away and so it is more important than ever that we are opening this space to ensure that women are protected," says Diana Nammi, executive director. She says:
"I am thrilled to announce that shortly IKWRO will be opening the first specialist refuge for Middle Eastern and North African women in Europe. This has been a dream that we have been tirelessly working towards for many years."
"Keeping the refuge open will only be possible with the support of donations and therefore we urge the people to back the refuge and help us keep women safe."
In 2011, IKWRO sent Freedom of Information requests to all 52 police forces in the UK asking how many incidents of 'honour' based violence they had recorded. Only 39 forces responded with a total of 2823 incidents.
Eighteen months ago Neda Barzegar contacted IKWRO to share her story and help improve understanding of 'honour' based violence in schools and police forces.
When Neda was 11 years old, she fled Iran with her family. Sadly Neda's mother died soon after they settled in Britain.
Her father remarried and the 'honour' based violence commenced.
Neda lived under constant threat that if they perceived her to bring shame, she'd be forced to marry in Iran. Then Neda discovered arrangements were being made to force her 16-year-old sister to marry a man in his forties.
She called the police and was told: "we can't do anything, this is your culture".
Neda fled with her sister, fearing the shame or dishonour she had brought to the family and the isolation from the community.
IKWRO has awarded Neda Barzegar the 2015 True Honour Award in recognition of her dedication to combat 'honour' based violence.
Mandy Sanghera, a human rights campaigner and government advisor on forced marriage says women are left in desperate situations without anywhere to escape to.
"There have been significant cuts by central government funding refuges in local authorities. The government has to prioritise — and a refuge isn't seen as a priority… Women are thinking twice about leaving their abuser and if there's nowhere to go they don't leave… We're leaving desperate women in desperate situations."
It's hoped the first specialist refuge for Middle Eastern and North African women opening in London will go a long way in helping these women.