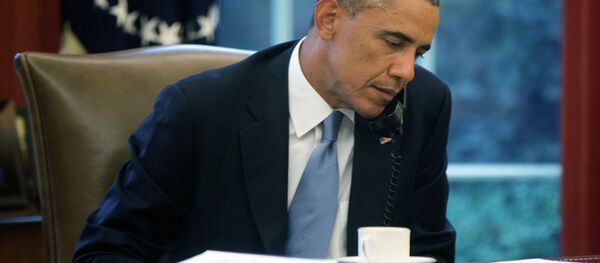 10 February 2015, 20:29 GMT
US President Barack Obama warned Vladimir Putin that "the costs for Russia will rise" if the country does not stop its alleged involvement in the Ukrainian crisis, German media wrote.
This was in reference to the recent phone conversation between the leaders of two countries, which took place a day before the reconciliation talks on the Ukrainian crisis in Minsk.
"Obama is urging Putin to peace and threatening," the German newspaper "Die Zeit" wrote.  According to the newspaper, the US president told Vladimir Putin that he would have to pay a high price if the conflict is not settled.
"Der Spiegel" magazine also noted that Obama's calls for peace contained a threatening tone. The US leader once again accused Russia of military involvement in the Ukrainian conflict. If Russia continues its "aggressive actions" in Ukraine and provides independence supporters with weapons and financial assistance, then "the costs for Russia will rise", Obama warned.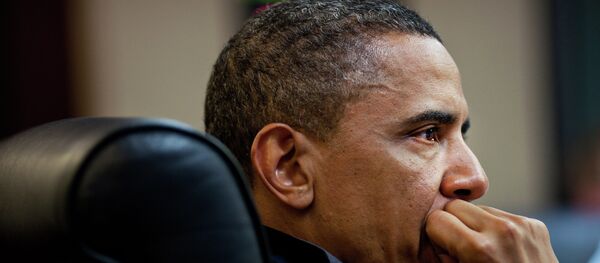 10 February 2015, 22:43 GMT
Moscow has repeatedly denied the allegations and claimed its noninvolvement in the Ukrainian conflict. German newspaper "Die Welt" cited the statement of press spokesman for the Russian President, Dmitry Peskov, who emphasized Russia' s interest in a peaceful resolution of the crisis and said that further sanctions and lethal arms supplies would only contribute to the deterioration of the situation.
The US recently announced that it is considering the possibility of supplying Ukrainian troops with lethal weapons.
The issue of direct US military assistance still remains on the US agenda, the Swiss newspaper "Blick" wrote, adding, however, that European countries such as Germany, the UK, Denmark, Austria and Sweden oppose the idea of US involvement in the Ukrainian crisis.