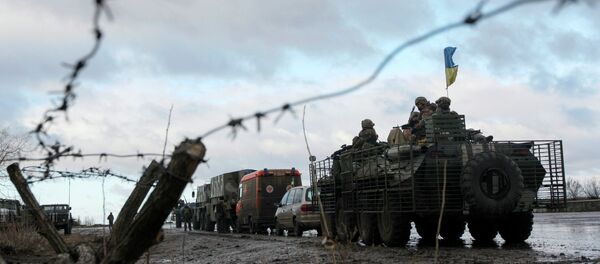 12 February 2015, 09:24 GMT
WASHINGTON (Sputnik) — The United States stands ready to ease sanctions against Russia once the Minsk agreements that have recently been agreed upon are fully implemented, US Department of State Secretary John Kerry said in a statement on Thursday.
"The United States is prepared to consider rolling back sanctions on Russia when the Minsk agreements of September 2014, and now this agreement, are fully implemented," Kerry said.
Before the United States decides whether to ease sanctions on Russia, Kerry said that the United States would need to see a full ceasefire in Ukraine, the "withdrawal of all foreign troops and equipment from Ukraine," and the "full restoration of Ukrainian control of the international border."
Kerry warned that the United States would judge the implementation of the Minsk agreement by actions and not by words.
On Thursday, the leaders of Ukraine, Germany, Russia, and France worked out a reconciliation deal including 13 points aimed at ending the military confrontation between Kiev forces and independence supporters in eastern Ukraine.
The deal includes an unconditional ceasefire coming into force at midnight on February 15, urges Kiev to undertake constitutional reform with a focus on Ukraine's decentralization, as well as stipulates the withdrawal of all foreign armed groups, equipment and mercenaries from eastern Ukraine under the observation of the OSCE.