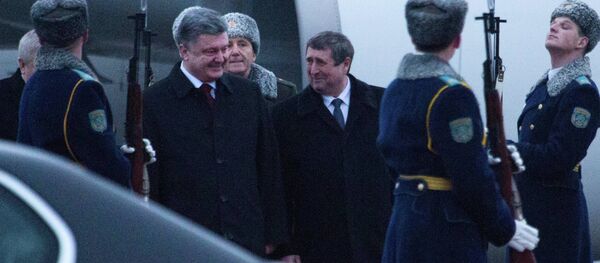 12 February 2015, 22:49 GMT
BRUSSELS (Sputnik) – French President Francois Hollande has announced that Normandy Quartet leaders plan to hold talks on the implementation of the Minsk agreements on Ukraine in about one week.
Speaking following an informal summit of EU leaders in Brussels on Thursday, Hollande said that if the ceasefire agreement reached in Minsk is implemented as planned, it would be necessary to at least hold telephone talks in the Normandy format next week.
Russian President Vladimir Putin, his Ukrainian counterpart Petro Poroshenko, German Chancellor Angela Merkel and French President Francois Hollande held talks on Ukrainian reconciliation in the Belarusian capital, Minsk, on Wednesday and early Thursday. At the same time, the Contact Group on Ukraine, which includes representatives from Russia, Kiev, the self-proclaimed people's republics of Donetsk and Luhansk (DPR and LPR) and the Organization for Security and Co-operation in Europe (OSCE) met in Minsk to discuss the situation in Ukraine.
The Contact Group agreed on a number of measures aimed at ending the conflict in southeastern Ukraine, including a ceasefire between Kiev forces and independence supporters, the creation of a buffer zone between the two sides through the withdrawal of heavy weaponry from the region and an all-for-all prisoner exchange.
The 16-hour talks in the Normandy format, which comprises Russia, Ukraine, Germany and France resulted in the signing of a joint declaration in support of these measures.
The ceasefire comes into force at midnight on February 15.
This is the second ceasefire agreed at a Contact Group meeting in Minsk. In September, 2014, a similar agreement was signed. However, despite the deal, clashes between Kiev forces and independence supporters continued in southeastern Ukraine and intensified at the start of 2015.