As for hygiene standards across the rest of the UK, diners 'may as well toss a coin' according to consumer group Which?
Which? compiled the rankings following data submitted by 398 UK local authorities to the Food Standards Agency.
Every site that serves food; including hospitals and care homes has been assessed and six boroughs in London are rated as the worst performing local authorities, falling well below basic food hygiene requirements.
Enfield is the lowest on the list for serving risky food in all 2468 of its premises. Second to the bottom is Edinburgh. Creeping up the list is Lewisham, Ealing, Harrow, Perth and Kinross, Falkirk, Birmingham, Camden and Brent – where 96 percent of all food was deemed 'at risk'.
© Photo : Which?
How safe is food from local businesses in your area?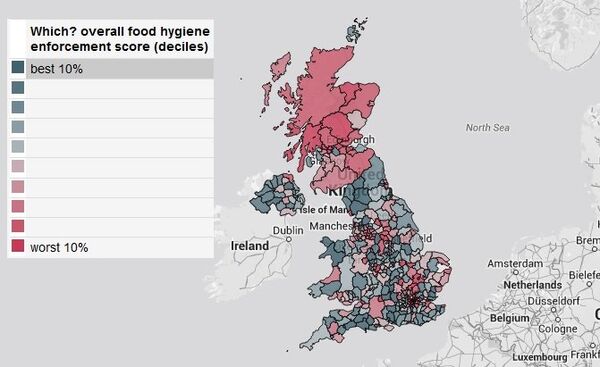 How safe is food from local businesses in your area?
Which? looked at three criteria: the proportion of premises ranked as high or medium risk for food hygiene, the percentage of premises that had been rated for risk, and the number of inspections and follow-ups that had to be carried out by local authorities.
Postcode Lottery on Food Hygiene
Richard Lloyd, executive director at Which? said:
"Our research reveals a shocking postcode lottery on food hygiene where in some places you may as well toss a coin before deciding which restaurant to trust with your health."
"Local authorities should do more to make the best use of limited resources, respond effectively to risks across the food supply chain and ensure consumers are adequately protected wherever they live".