While it may seem like a move in the wrong direction, as many US states – and most of the world – have decided against capital punishment, the Wyoming House of Representatives passed a bill on Thursday which would legalize firing squads as a failsafe means of state execution.
The bill, Senate File 13, passed the House with a vote of 32-28, only after an amendment was added to ensure that any death row inmates would be rendered unconscious before being shot.
While the state's preferred method is lethal injection, EU restrictions have made those drugs tougher to come by and legislators are looking for alternatives. If lethal injections are unavailable, current laws dictate that executions be carried out with lethal gas. But the state has no working gas chamber, since the maintenance is too costly.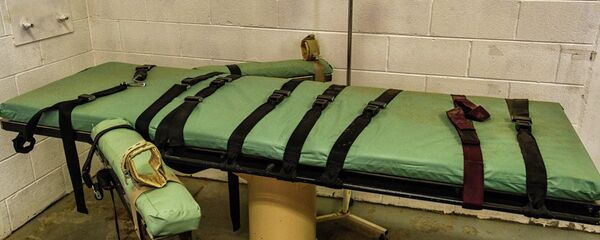 30 January 2015, 06:55 GMT
While electric chairs were long a staple of US capital punishment, they were gradually phased out in favor of lethal injections, which are considered more humane.  Electrocution is also costly, too costly for Wyoming to consider.
But one thing that's plentiful and cheap in the American West is ammunition. Republican Senator Bruce Burns told the Star Tribune that firing squads are the cheapest, most effective alternative to lethal injection.
The legislative push seems particularly unnecessary given that the state has only executed one inmate since 1976, according to the Death Penalty Information Center, and currently has no one on death row. Representative Kendell Kroeker, who supports the bill, told the Tribune that he believes that lack of urgency to be a plus. With no executions pending, "it's not personal in any way," he said.
While a federal judge overturned the death sentence for Wyoming's only death row inmate last November, Natrona County District Attorney Michael Blonigen has indicated that he plans to proceed with a new death penalty hearing.

28 January 2015, 08:29 GMT
Representatives who voted against the bill have pointed out that research suggests as many 5% of people executed are, in fact, innocent. Representative Cathy Connolly said legislators didn't take enough time to consider alternative methods.
If the Wyoming Senate approves the bill, it will move to Governor Matt Mead's office. He has given no indication on this specific legislation, but during a Wyoming Press Association luncheon, he did express his views on capital punishment.
"I'm a proponent of having a death penalty in the state of Wyoming," he said.
With lethal injection drugs becoming rarer, the governor may have to decide how firm his opinion is, if he's willing to resurrect one archaic practice to save another.