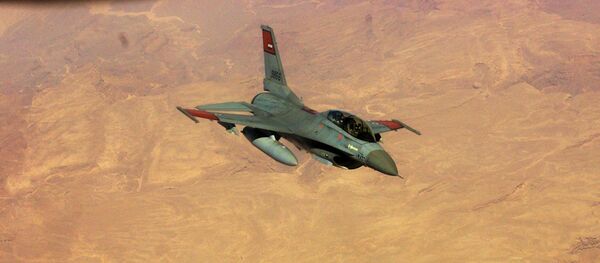 16 February 2015, 06:30 GMT
CAIRO, (Sputnik)
–
The Egyptian and Libyan Air Forces have killed between 40 and 50 Islamic State (ISIL) militants during airstrikes in Libya after the kidnapping and execution of 21 Egyptian Christian Copts, Egyptian state television reported Monday.
Earlier, Sky News Arabia reported that eight airstrikes carried out by the Egyptian Air Force in coordination with Libyan military aviation near the city of Derna located in the country's northeast had killed seven ISIL militants and destroyed five buildings of the leaders of the terrorist organization.
On Sunday evening, the ISIL published a video showing the beheading of 21 Egyptian Christian Copts who were kidnapped in Libya.
Egyptian President Abdel Sisi said Cairo "reserves the right to respond in any way" after the brutal killings.
According to media reports, the Libyan Air Force also conducted attacks against IS targets in two cities in the country. As many as 50 militants were reportedly killed in Libya's airstrikes.
The Islamic State (ISIL) is a jihadist group in control of large areas of Syria and Iraq, having proclaimed caliphate on the lands it captured. The group has published a number of videos showing its executions of foreign nationals.
A US-led coalition comprising more than 60 countries is conducting airstrikes against the militants.