MOSCOW (Sputnik) — Hungarian Prime Minister Viktor Orban will welcome Putin to Budapest a year after the Hungarian minister visited Moscow on January 14, 2014.
Putin's trip is expected to be mostly about Russian-Hungarian energy cooperation and trade, and reportedly underscores Orban's eastward-leaning policies.
A top-priority issue on the agenda is the renewal of Hungary's gas contract with Russia, which is to expire this year, Orban said as cited by The Economist.
Russia is Hungary's biggest trading partner within the European Union and supplies most of its gas. In recent months, the Hungary has been hurt by Russia's decision to drop the South Stream pipeline project over a legal conflict with the European Union. Budapest has lost millions in transit fees as a result.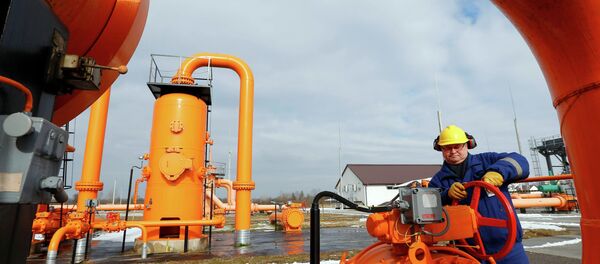 16 February 2015, 13:45 GMT
A second blow came from Moscow's standoff with Brussels over EU sanctions on Moscow after Russia's reciprocal curbs on EU food imports took millions more out of Hungary's coffers. Hungary's Affairs and Trade Minister Peter Szijjarto said his country's exports to Russia had dropped by around 13 percent since the ban came into force.
During Putin's visit working visit to Budapest, the Hungarian prime minister will presumably seek to reconcile Russia and the European Union, something that Szijjarto urged last November when he called for a restart of "pragmatic relations" between Moscow and Brussels.
According to Szijjarto, Putin and Orban will also discuss the armed conflict in Ukraine. The foreign policy chief told public radio in January that Hungary wanted an end to hostilities in the country's east and wanted to Ukraine to be a strong neighbour.
Moreover, the continued standoff of the United States with Orban's government may push Hungary even closer to its eastern partner. The Economist quoted Orban as saying that the waning influence of the US in Central Europe motivated Hungary to reengage more cooperatively in ties with Moscow and Berlin.
This statement came after the US denial of visas to senior Hungarian officials in October strained Budapest's relations with Washington, prompting local media to speculate that the ban could have targeted Orban's allies in response to Hungary's rapprochement with Russia and his critique of the EU-US sanctions against Russia.
Relations between Russia and the West hit rock bottom after the start of the military conflict in Ukraine. Brussels slapped Moscow with several rounds of economic sanctions over its alleged involvement. Moscow responded with a one-year ban on the import of certain food products from the European Union.