MOSCOW (Sputnik) – The fall in oil prices could have been orchestrated in order to undermine the Russian economy, but it will only last a few months, Deputy Prime Minister Arkady Dvorkovich says.
An attempt to weaken Russia could have been "an additional factor", apart from the fall in growth rates and oil oversupply, that led to the recent fall in oil prices, Dvorkovich told the Russian "Channel 1".
The deputy prime minister added, however, that "this factor cannot work longer than a few months because then other more serious changes start to take place", which could lead to a sharp increase in oil prices.
"A lot of the investments will not be made if there is such volatility in oil prices, and if there is no investment the oil supply will not be as high and prices may immediately increase by a lot when it turns out that investments were not made and there is simply no oil," Dvorkovich explained.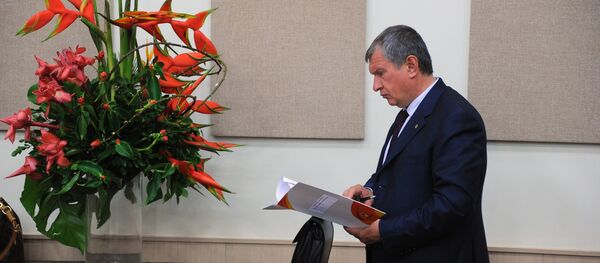 16 February 2015, 02:41 GMT
Igor Sechin, the CEO of the Russian Rosneft oil giant wrote in an article published by the Financial Times on Sunday that global oil prices may reach $90-$110 per barrel in the long-term perspective if they fail to rebound to $60-$80 per barrel in the nearest future and cause the industry to mothball the existing production projects instead of opening new ones.
Sechin claimed that the current oil prices do not reflect the market realities and because of the expensive extraction, the fair price for a gallon of oil should be standing at $60-$100.
Since June 2014, global oil prices have dropped by about 50 percent. In November, the Organization of Petroleum Exporting Countries (OPEC) decided not to cut the oil output levels, which contributed to a further slump in prices.
Earlier this month, Citigroup said that in 2015 the price of a barrel of WTI oil might fall to as low as $20 per barrel.
The Russian budget relies largely on oil revenues, which slumped in the second half of 2014 due to global overproduction. The Rouble has lost about a half its value against the dollar since the summer.
In January, the Russian government presented an anti-crisis plan set to stabilize the economy. The plan stipulates deep spending cuts and aims to balance the country's budget by 2017.