UNITED NATIONS (Sputnik) – US Ambassador to the United Nations Samantha Power has claimed that independence fighters in southeastern Ukraine (Donbas) are causing an escalation of military confrontation in the region, adding, however, that Washington has limited information on the matter.
Speaking to the UN Security Council on Tuesday, Power accused Russia of aiding Donbas militia and not ensuring the security of monitors from the Organization for Security and Co-operation in Europe (OSCE).
"Amid conflicting reports about whether or not Debaltseve had fallen, the ceasefire that had been in effect since Sunday had not been respected, with many civilians enduring the terror of ongoing assaults," Power said, as cited in a UN Security Council's Tuesday statement.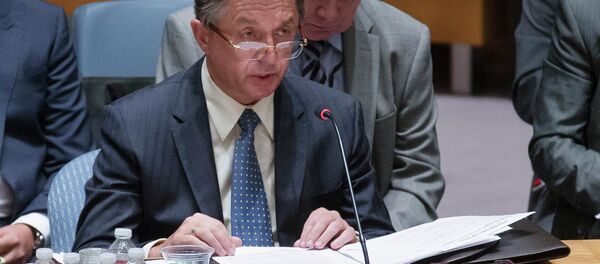 17 February 2015, 22:06 GMT
The ambassador mentioned, however, that the United States has limited information on the events in southeastern Ukraine, particularly in the town of Debaltsevo, where Kiev forces remain encircled by independence supporters.
Ukraine has been in the state of internal armed conflict since April 2014, when Kiev forces launched a military operation against independence supporters in the country's southeast.
A ceasefire was reached between the two sides in September but was not observed, and in early 2015 hostilities in Ukraine's southeast intensified, with Debaltsevo being one of the hotspots.
The most recent ceasefire deal was agreed on February 12 following 16-hour talks held by the leaders of Russia, Ukraine, France and Germany in the Belarusian capital, Minsk. The ceasefire came into force on February 15. Truce violations have been reported but the Organization for Security and Co-operation in Europe (OSCE) said the ceasefire was generally holding.