VIENNA (Sputnik) — Head of the Organization for Security and Co-operation in Europe (OSCE) Special Monitoring Mission (SMM) in Ukraine, Ertugrul Apakan, has urged Kiev as well as the militia of the self-proclaimed people's republics of Donetsk and Luhansk (DPR, LPR) to halt fire in Debaltseve in order to facilitate the monitors' access to the area.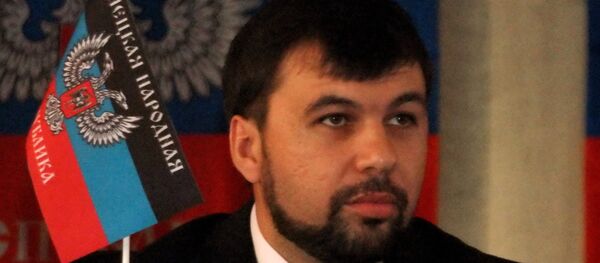 17 February 2015, 21:42 GMT
"Thus far, the so-called 'DPR' and 'LPR' – citing security fears – have effectively denied access to the SMM to Debaltseve. We insist that they immediately cease the offensive. We insist upon unfettered access to Debaltseve and to the full security zone," Apakan said as quoted in OSCE's Tuesday press release.
According to Apakan, the SMM had asked both the Kiev forces and independence fighters to adhere to the ceasefire agreed upon in Minsk on February 12.
"I regret that they were not all able to do this. As a result, the SMM's mandate has been compromised," Apakan said, expressing particular concern about the local civilian population.
"The SMM will return to Soledar on 18 February and will travel from there to Debaltseve as soon as the sides can confirm to each other their intention to honour the ceasefire agreement. Failure to do so will have grave consequences," the chief OSCE monitor warned.
DPR negotiator Denis Pushilin has told the Rossiya-24 TV channel that militia cannot guarantee the security of OSCE monitors because Kiev forces continue to fire at independence supporters in Debaltseve prompting them to return fire in violation of the ceasefire agreement signed following Normandy format talks between the leaders of Russia, Ukraine, Germany and France held last week in the Belarusian capital, Minsk.
5,000 Ukrainian soldiers remain encircled by independence supporters in the government-controlled Debaltseve, a strategic transport hub in eastern Ukraine, where Kiev forces have been fighting against militia following the launch of a special military operation by the Ukrainian authorities against residents of the Donetsk and Luhanks regions last spring.
In September, a ceasefire agreement was signed between the two sides, but it failed to hold and hostilities continued through the end of 2014, intensifying in the first few weeks of this year, with Debaltseve remaining one of the hotspots of violence.