Former Georgian President Mikheil Saakashvili plans to return to power to save the country from a "catastrophe," Georgian Rustavi 2 TV reported Wednesday. "Acting officials have brought the country to poverty," he said, referring to the current state of affairs in Georgia.
Saakashvili claimed Bidzina Ivanishvili, who became Prime Minister after Saakashvili's term expired and his United National Movement party was driven from power, was responsible for the current decline of Georgia.
"According to evolutionary theory, Bidzina Ivanishvili and I are at different evolutionary steps. An absolute majority of Georgian people are at a much higher step than this individual," Saakashvili said, before proceeding to accuse the former PM of nepotism and other forms of incompetence.
Saakashvili served as Georgia's president from 2004 to 2013. He enjoyed overwhelming support from the United States, but ruined relations with neighboring Russia.
In 2008, Georgia led a deadly assault on its former republic, South Ossetia and entered a five-day military confrontation with Russia. Following Russia's recognition of the independence of South Ossetia and Abkhazia, another former autonomous region of Georgia, Tbilisi severed diplomatic relations with Moscow.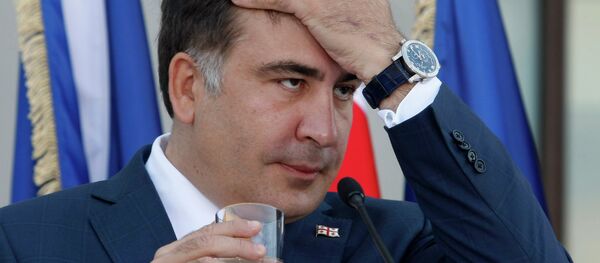 16 February 2015, 15:17 GMT
Saakashvili was recently appointed the non-staff head of the Advisory International Council of Reforms in Ukraine. Kiev refused to extradite him to Georgia on February 17 to stand trial for several criminal charges.
In Georgia, Saakashvili is wanted for abuse of power and embezzlement of public funds.