DONETSK (Sputnik) — Reconstruction of the eastern Ukrainian city of Debaltseve will begin on Thursday, Alexander Afendikov, who was appointed mayor of the city on Wednesday, said.
Debaltseve is a key transport hub in southeastern Ukraine, where thousands of Kiev soldiers have been encircled by Donbas militia for weeks.
"The reconstruction of Debaltseve will begin tomorrow," Afendikov told reporters.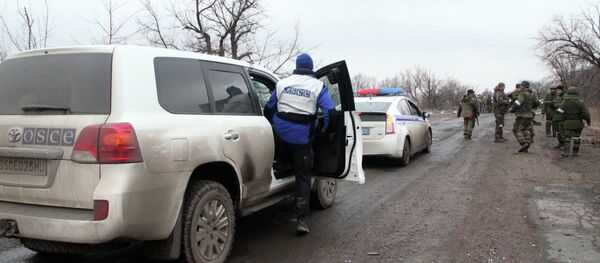 18 February 2015, 19:45 GMT
Meanwhile, the head of the Donetsk People's Republic's (DPR) Emergencies Ministry Alexei Kostrubitskiy stated that four temporary shelters with electricity and heating will be established in Debaltseve for local residents.
Kostrubitskiy added that almost half of the residents have already left the city and that those who leave tomorrow, will be settled in the neighbouring cities of Donetsk, Shakhtarsk and Khartsyzk.
The Organization for Security and Co-operation in Europe has complained that its monitors had no access to the area around the city of Debaltseve, since the ceasefire between the warring sides became effective on February 15.
Earlier on Wednesday, Ukrainian President Petro Poroshenko said the operation to withdraw Kiev troops from the encirclement in Debaltseve had been completed.
However, the head of OSCE Special Monitoring Mission to Ukraine said the monitors are still unable to get to Debaltseve because of intense fighting in the area.