UNITED NATIONS (Sputnik) – Kiev's plans to request the deployment of peacekeepers in the country's east cast doubt on Kiev's intention to adhere to the Minsk agreements, Russia's envoy to the United Nations Vitaly Churkin said Thursday.
On February 12, the leaders of Russia, Ukraine, Germany and France hammered out a deal on the Ukrainian reconciliation. The monitoring of the reconciliation process is carried out by the Organization for Security and Co-operation in Europe (OSCE).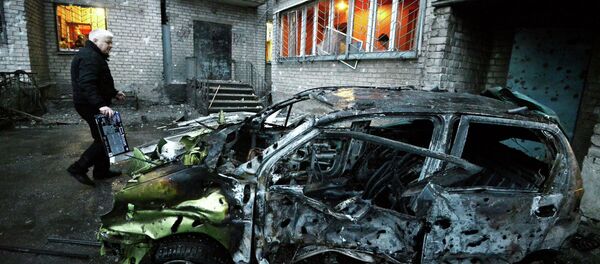 11 February 2015, 21:04 GMT
"If some other schemes are proposed [apart from the Minsk agreements], it raises the question of whether the Minsk agreements are going to be adhered to or not," Churkin said.
On Thursday, the Ukrainian National Security and Defense Council's secretary Oleksandr Turchynov said that the council had decided to address the UN and the EU on the deployment of peacekeepers in the country.
Turchynov said that the peacekeepers should be stationed at the line of contact and the Russian-Ukrainian border.
According to Ukrainian President Petro Poroshenko, a EU police mission is the best format of international presence in the country.