US airlines and their counterparts in the Gulf are in the midst of a trade dispute.
American carriers claim that major Gulf carriers have received $40 billion in subsidies. They are urging federal authorities to renegotiate or scrap an Open Skies trade pact that has allowed Gulf airlines to increase flights to the US, Reuters reported.
Gulf carriers denied ever receiving subsidies, and said that US-based airlines themselves received $5 billion in government assistance following the 9/11 attacks.
© AP Photo / Mark Lennihan
Delta Air Lines CEO Richard Anderson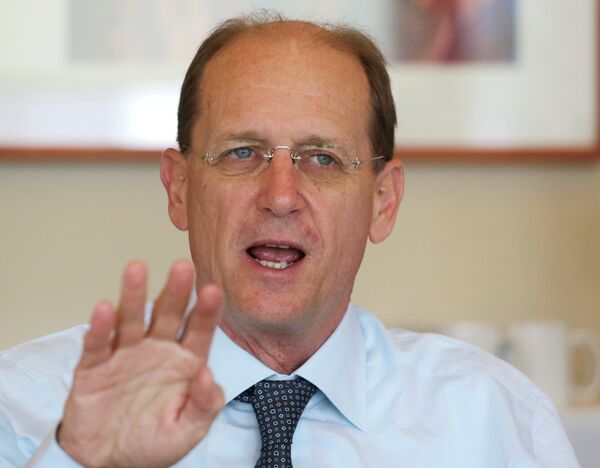 Delta Air Lines CEO Richard Anderson
© AP Photo / Mark Lennihan
Asked about those counter-claims during an interview on CNN, Delta CEO Richard Anderson said: "It's a great irony to have the United Arab Emirates from the Arabian Peninsula talk about that, given the fact that our industry was really shocked by the terrorism of 9/11, which came from terrorists from the Arabian Peninsula."
Those comments have infuriated officials in the United Arab Emirates.
Delta said that Anderson was responding to claims that the post-9/11 payments to US airlines amounted to subsidies.
"He didn't mean to suggest the Gulf carriers or their governments are linked to the 9/11 terrorists. We apologize if anyone was offended," the airline said in an emailed statement.
But Emirates, the largest of the three leading Gulf carriers that also include Qatar Airways and Abu Dhabi's Etihad, on Thursday spurned the explanation.
"We believe that the statements made this week by Mr. Anderson were deliberately crafted and delivered for specific effect," it said in a statement.
Qatar Airways CEO Akbar Al Baker also rebuked Anderson for his statements.
26 December 2014, 14:59 GMT
"He should be ashamed to bring the issue of terrorism to try to cover his inefficiency in running an airline," Al Bakar told CNN. "Mr. Anderson should be doing his job improving and competing with us instead of just crying wolf for his shortcomings in the way the airline is run."
US airline companies said they have lost significant bookings since 2008 because of Gulf competition, and cited documents that they say demonstrate government aid, including cheap airport fees, Reuters reported.
According to Gulf officials, the US carriers do not serve the same routes, and are losing traffic because of poorer service. They also said that airport charges are the same for foreign carriers.
Western airlines have warned that thousands of service industry jobs are at stake, to which Gulf carriers responded by saying that they support at least as many jobs in the aerospace sector through huge aircraft orders.