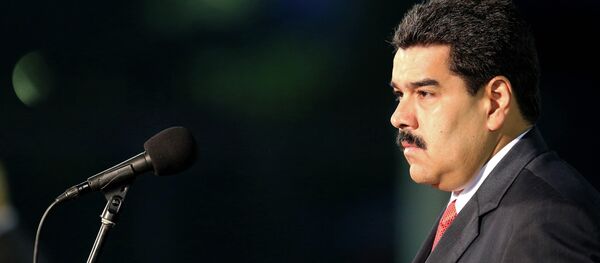 13 February 2015, 05:43 GMT
The international campaign to demoralize Venezuela is financed by oligarchs and right-wing groups globally, according to the country's leader.
Last week, Maduro announced that authorities foiled a US-sponsored attempt to topple him. According to the plan, several military aviation officers were allegedly supposed to carry out an attack against the presidential palace or another target.
In early February, Maduro accused US Vice President Joe Biden of conspiring against Venezuela.
On Thursday, the US State Department issued a statement saying the US "does not support political transitions by non-constitutional means."
We regret that the Venezuelan govt. continues to blame the US & international community for events inside Venezuela. http://t.co/HXzwIonsjN

— Department of State (@StateDept) 20 февраля 2015
"The allegations made by the Venezuelan government that the United States is involved in coup plotting and destabilization are baseless and false," US State Department spokeswoman Jen Psaki added.
Allegations by the Venezuelan government that US is involved in coup plotting & destabilization are baseless & false. http://t.co/HXzwIonsjN

— Department of State (@StateDept) 20 февраля 2015