Finnish President Sauli Niinistö on Friday signed a law passed late last year by Parliament legalizing same-sex marriage in Finland. It is the first legislation to become law as the result of citizens' initiative.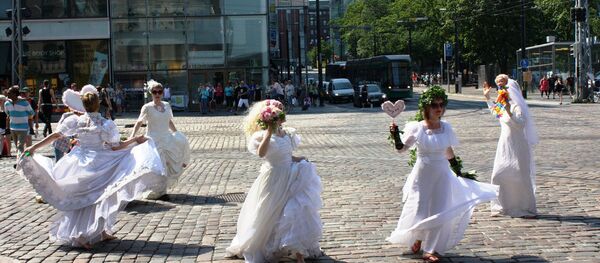 28 November 2014, 19:02 GMT
The legislation follows laws in 2002 that permitted gay couples to enter into registered partnerships. Under the new legislation those in the same-sex marriages will have exactly the same rights as heterosexual couples, including adopting children and sharing a surname.
The law will come into force on March 1, 2017.
The signing was a historic event also in respect to the fact that this will be the first piece of legislation brought to Parliament as a citizens' initiative and approved as the law of the state. The petition was signed by 167,000 voters.
According to officials, various family, social and health entitlements will have to be examined and revised, as will the law on the legal status of registered same-sex couples. Revisions are to be submitted to Parliament in the coming months.