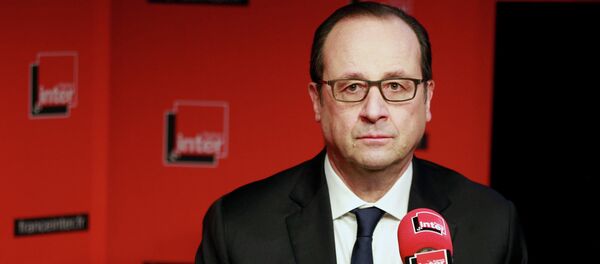 5 January 2015, 11:40 GMT
PARIS (Sputnik) – French President Francois Hollande said Friday at a joint news conference with German Chancellor Angela Merkel that he was unable to confirm the presence of Russian military hardware in Ukraine.
"We cannot confirm that Russian tanks had entered Ukraine," Hollande said.
Earlier on Friday, Ukrainian military spokesman Andriy Lysenko claimed that some 20 Russian tanks, military hardware and ammunition were seen heading from Russia to the Ukrainian territory.
Ukrainian authorities, alongside the United States, have persistently accused Russia of sending its troops and equipment to war-torn eastern Ukraine, without providing any evidence. Russia has repeatedly denied these allegations, stressing that it is not party to the internal Ukrainian conflict.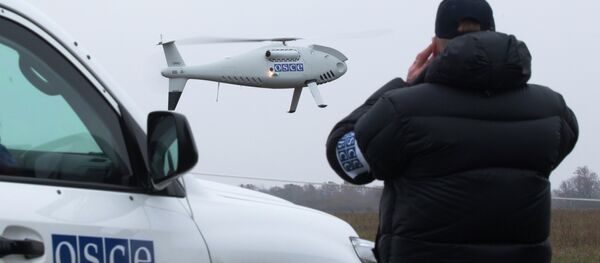 13 February 2015, 12:24 GMT
Any country that violates the Minsk agreements on reconciliation in Ukraine will face sanctions, French President Francois Hollande said.
"Any country that violates the Minsk agreements on Ukraine will face sanctions," he said.
On February 12, a so-called Normandy format meeting took place in Minsk between the leaders of Ukraine, France, Germany and Russia. The international mediators have agreed on a set of measures aimed at stopping the military confrontation between Kiev forces and independence supporters in eastern Ukraine.
The list of measures stipulated a ceasefire that came into force on February 15, a withdrawal of heavy artillery from the line of contact, and all-for-all prisoner swap among other points.
The Organization for Security and Co-operation in Europe (OSCE) Special Monitoring Mission in Ukraine said that the ceasefire was generally holding, but reported several truce violations in the Luhansk region and the Debaltseve area in eastern Ukraine.