MOSCOW (Sputnik) — Ecuador army and police seized about a ton of cocaine en route to Galapagos Islands, the country's Minister of the Interior Jose Serrano said.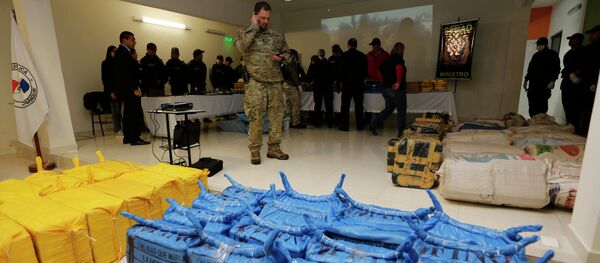 15 January 2015, 04:00 GMT
The minister commended the National Police of Ecuador performance on his official Twitter page on Saturday.
Galapagos Islands are located in about 603 miles from the mainland.
Ecuador has become a transit territory for drug trafficking because of its location between two major countries-producers of cocaine, Colombia and Peru. Drugs from those countries are generally headed to north, mostly to the United States.
Since the beginning of the year the country of Ecuador has already apprehended 1.3 tons of drugs, mostly cocaine, according to Serrano. Almost 45 tons of drugs were seized in 2014 and over 56 tons in 2013.