GENEVA (Sputnik) — US Secretary of State John Kerry arrived Sunday at the Hotel President Wilson in Geneva to meet with his Iranian counterpart Mohammad Javad Zarif for talks on Iranian nuclear program, a Sputnik correspondent reported.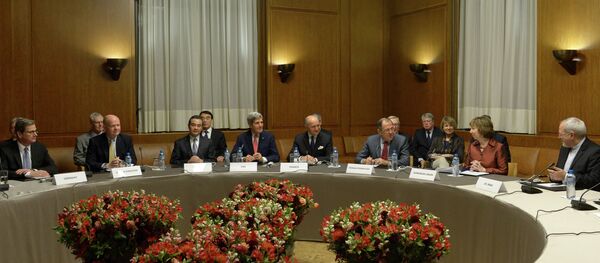 21 February 2015, 23:14 GMT
Later in the day, representatives of Iran and the P5+1 group, comprising Russia, China, the United States, Britain, France and Germany, are expected to discuss the issue together.
The West suspects Iran of developing nuclear weapons, and imposed several rounds of sanctions against the country. Tehran has repeatedly rejected those claims, stating that its nuclear program is for peaceful purposes only.
Iran and the P5+1 group have held several rounds of negotiations on Tehran's nuclear program in recent years with limited results. The negotiators agreed to reach a long-term agreement by July 2015.