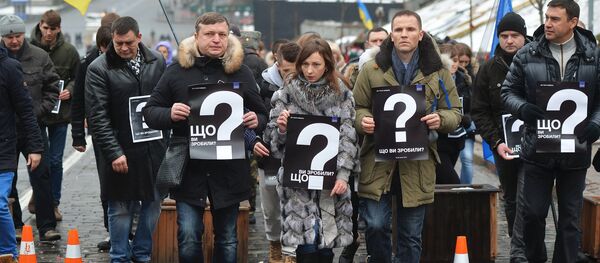 21 February 2015, 14:08 GMT
The country's currency continued sliding on Wednesday, as the market exchange rate for the US dollar rose to 39 hryvnias, according to Ukrainian financial news site Minfin.
Ukraine's National Bank reacted to previous collapses in the national currency's value by imposing capital controls until Friday, prohibiting banks from purchasing currency for consumer operations. The move has allowed the central bank to artificially dictate the interbank rate, which it reduced from 32 to 24 hryvnias as of 12:45 p.m. local time. The artificial rate only affects exporters, who are forced to sell 75 percent of their foreign currency revenue to the National Bank at the rate.
"I learned this morning on the Internet that the National Bank of Ukraine has, as usual on its own without any sort of consultations, made the decision to close the interbank currency market, which will absolutely not add to the stability of the national currency that the national bank is responsible for. This situation has a very complex and negative influence on the country's economy," Ukrainian Prime Minister Arseniy Yatsenyuk said.
The Ukrainian National Bank chairwoman Valeriya Hontareva, however, contradicted the Prime Minister's statement.
"We coordinate all administrative measures with the International Monetary Fund first, and only then implement them," Hontareva told reporters.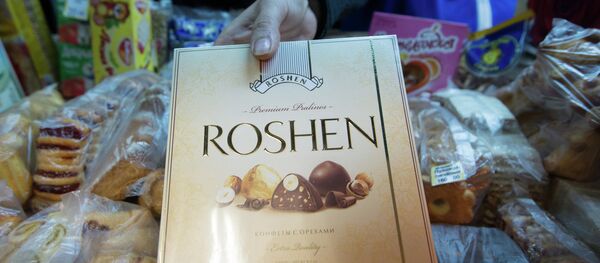 15 February 2015, 13:59 GMT
On Tuesday, Ukrainian television channel Ukraina announced that with the new exchange rate, the minimum wage in Ukraine stands at around $42.90 per month, which according to the channel, is lower than in Ghana or Zambia. There are currently no plans to raise the minimum wage until December.
Meanwhile, data released by the country's statistical service shows that Ukrainians in government-controlled territories now consume 40 percent less than a year ago.
Food prices among producers rose 57.1 percent, with the price for grains and vegetables rising 91 percent from January 2014 to January 2015, while the official inflation rate over the period totaled 28.5 percent. Meanwhile, Ukrainian consumers responded to economic difficulties by cutting their spending in hryvnias by 22.6 percent, which amounts to an almost 40 percent decrease in real consumption.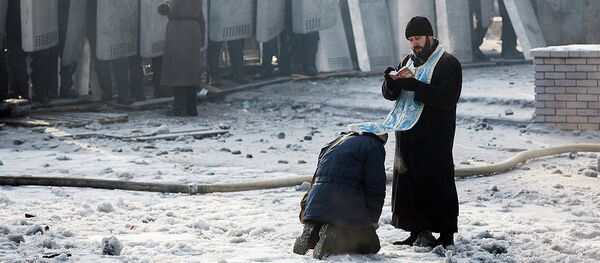 18 February 2015, 17:40 GMT
The hryvnia's devaluation has been especially painful for Ukraine, which is becoming increasingly import-dependent. According to the Ukrainian statistical service, total industrial production in areas controlled by the Ukrainian government today fell 21.3 percent in the past year, despite some growth taking place in western Ukrainian regions.
According to the Ukrainian Motor Vehicle Manufacturers Association, Ukraine manufactured a total of 352 vehicles in January 2015, including 224 cars, 109 trucks, most of which were made for the military, and 19 buses. This is down from a December 2013 peak of 6396 vehicles, including 5640 cars and 388 trucks in, which occured right before the escalation of Euromaidan protests, when manufacturers in western Ukraine suddenly cut production by 90 to 100 percent. However, even compared to January 2014, total production fell by 89.4 percent.