Iran's Revolutionary Guards launched cruise missiles at a life-size copy of the US Nimitz aircraft carrier as they started naval exercises in the Strait of Hormuz, the country's Tasnim New Agency announced.
The aircraft carrier model was sunk with four life-size Nasr cruise missiles, which have an operational range of 35 kilometers and a 150 kilogram  armor-piercing high-explosive warhead.
In addition, the Revolutionary Guards launched Khalij Fars (Persian Gulf) ballistic missiles from a coastal port. The missiles have a range of 300 kilometers and can reach mach 3 speeds (at least 1020 meters per second).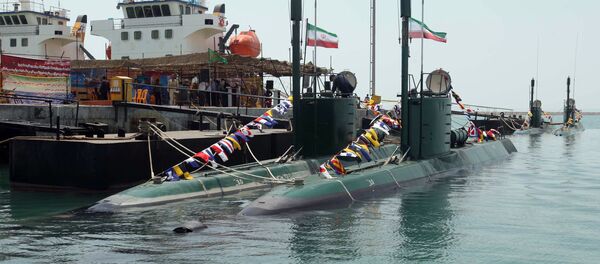 18 February 2015, 10:47 GMT
The drills, dubbed Great Prophet Nine, take place in the Strait of Hormuz, a 39 kilometer-wide waterway which is the sole entrance to the Persian Gulf.
Iran's state television said that the war games' goal is to "demonstrate the power" of the Iranian Navy in protecting the country's interests in the Persian Gulf.