Art Smith, known as the former personal chef of Oprah Winfrey, organized an enormous mass gay wedding on Miami Beach.
The chef decided to hold the ceremony, after hearing the ban on same-sex marriage was lifted in January in Florida. Smith organized the wedding party with the  help of Twitter using the hashtag #101gayweddings.
Smith confessed that the event was inspired by the film "101 Dalmatians." Notably, this was a favorite film of  Florida Attorney General Pam Bondi, who campaigned against legalizing same-sex marriages.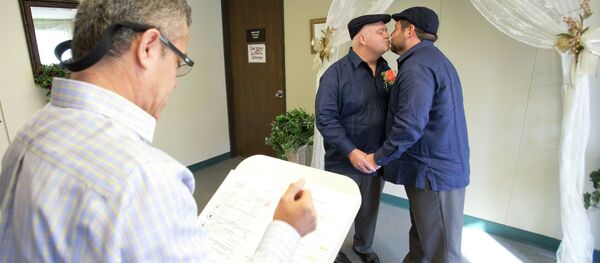 6 January 2015, 16:43 GMT
"We have our own Cruella De Vil, Pam Bondi. She was determined that she was going to prevent equality from coming to Florida," said Smith.
The mass same-sex wedding in Florida was attended by many celebrated chefs including Duff Goldman and Ted Allen. Guy Fieri, a host of the popular Food Network show 'Diners, Drive-Ins and Dives' officiated the 101 weddings ceremony, held on the courtyard of the James Royal Palm Hotel.
Chi Chi LaRue, a popular Miami DJ was responsible for the music. Food included fried chicken, crab-stuffed avocados, grilled lamb, and a seven-tiered wedding cake made by Goldman.
In August 2014 a federal judge, Robert Hinkle, declared that the state's ban on same-sex marriages was unconstitutional. Florida appealed the decision in the United States Court of Appeals causing its postponement. In January 2015, Judge Hinkle's ruling came into effect and same-sex marriage became legal in the state. However, the court trial is still in progress.