Ekaterina Blinova — An adviser to the SBU Head, Markiyan Lubkivsky, urged Ukrainians to suspend cooperation with Russian journalists under threat of criminal prosecution.
The statement, published on the SBU (Security Service of Ukraine) website emphasizes that those Ukrainians who collaborate with Russia's journalists would face criminal liability.
"Lubkivsky on behalf of the Security Service of Ukraine warns of criminal responsibility for those who support the aggressor, in particular in conducting subversive information activities against Ukraine," the official statement reads.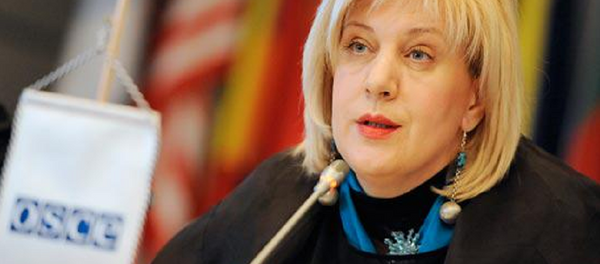 26 February 2015, 13:27 GMT
Lubkivsky's statement comes a day after three Russian journalists – Elena Makarova and Sergei Korenev (Channel One) and Andrei Grigoryev (NTV) – were detained without explanation by the Ukrainian security forces in Kiev on February 25. The correspondents were working on material about a march organized by the Right Sector ultra-nationalists in Kiev, the capital of Ukraine. The journalists were held for several hours by SBU servicemen and then deported from Ukraine upon condition that they are prohibited to entering the state again for five years.
A criminal case has been opened by the Russian Investigative Committee over the illegitimate detention of Russian citizens. Commenting on the issue, Russian Investigative Committee spokesperson Vladimir Markin emphasized that the Ukrainian security forces acted illegitimately, violating both Ukrainian and international laws. The SBU actions were qualified as a provocation.
It is worth mentioning that on February 21 the SBU issued a list of over 100 Russian media sources banned from working in Ukraine. The "blacklist" includes the Rossiya Segodnya International Information Agency and all Russian television channels. Surprisingly, pro-Western channel Dozhd evaded the SBU restrictions.
Organization for Security and Co-operation in Europe (OSCE) Representative on Freedom of the Media Dunja Mijatovic expressed her growing concerns regarding the restrictions imposed by the Ukrainian authorities on Russian journalists, characterizing them as "troubling."