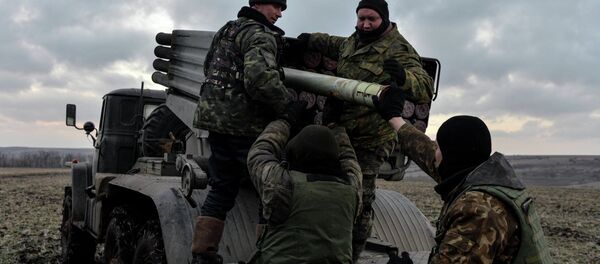 27 February 2015, 07:35 GMT
KIEV (Sputnik) — The Ukrainian Defense Ministry is set to continue the withdrawal of heavy weaponry on Friday from the line of contact in the country's eastern regions, a senior Ukrainian defense ministry official said Friday.
"Today, we will continue the withdrawal of our units. In a few hours, footage will be presented, showing columns of our artillery being transferred to the rear," Serhiy Galushko, the deputy head of the ministry's Department of Information Technology, told reporters.
After continued violations of a previous ceasefire deal, signed last September, Kiev and eastern Ukrainian independence supporters agreed on a peace deal earlier in February. It stipulates a ceasefire, in force from February 15, as well as the pullout of all heavy weapons from the frontline, among other measures to end the military conflict.
The sides began the drawback earlier in the week, with Donetsk militia stating that it had withdrawn 90 percent of its heavy weaponry on Thursday. The same day the Ukrainian military said it had begun the first stage of its heavy weapons pullback.