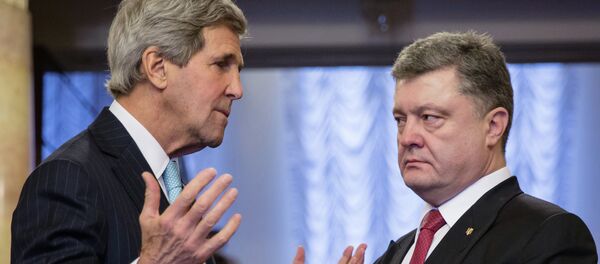 25 February 2015, 11:54 GMT
The situation in Ukraine could potentially have major consequences for the European continent and that is why the conflict must be resolved by Europeans themselves and according to their own interests, Jean-Claude Empereur, a French political scientist, wrote in Boulevard Voltaire.
According to Empereur, since Ukraine is one the crossroads of the continental Europe and Russia, the situation needs to be resolved within the framework of this geopolitical dimension. The scholar said it is extremely important that the Minsk agreements were signed without the participation of the United States.
"It was a pleasant surprise that France, Germany and Russia managed to persuade Kiev to agree to a ceasefire, while keeping their distance from the Americans," Empereur said.
Empereur said that the recent visit of US Secretary of State John Kerry to London and the statement of British Prime Minister David Cameron about sending military trainers to Ukraine are none other than attempts to destabilize the situation in Ukraine further and prevent the Normandy format talks. According to the expert, the United States and Britain were outraged by the talks that they saw as blatant contradiction to the course of Atlanticism, a belief in the importance of political and military cooperation between Western Europe and North America.
In this situation, France and Germany should try to remain calm and resist to the influence of the United States to settle its own agenda in the Ukrainian conflict. Empereur added that the only way to find a working political solution to end the Ukrainian conflict is to go ahead with federalization and rule out Ukraine's NATO membership.