The Greek government asked Russia to partially lift the food import embargo imposed in summer 2014 in response the EU sanctions. If Russia agrees, Greece oranges, strawberry and peaches will be available in the Russian market again.
Greek Deputy Agriculture Minister Panagiotis Sguridis discussed the issue with Alexei Alekseenko, a representative of the Russian Agriculture Minister, at a meeting in Thessaloniki during the international food expo.
"After the proposal was made, Alekseenko promised to send a letter to Russian Prime Minister Dmitry Medvedev. He would take a stand for excluding three Greek products from the list of banned food which was imposed in August 2014 in response to the EU sanctions against Russia," according to media outlets.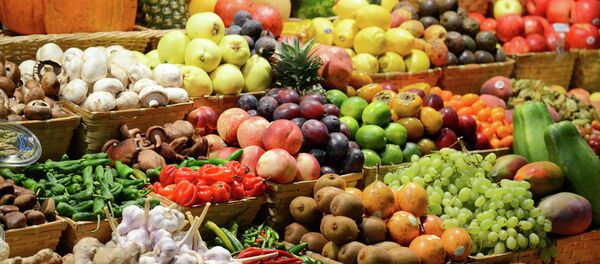 12 January 2015, 16:51 GMT
Sguridis expressed hope that the proposal will be accepted.
"There is a chance that two or three products will be excluded from the embargo list," he said.
After the embargo was imposed, imports of Greek foods to Russia declined by more than 40 percent.
Greece also plans to start selling animals and reproductive materials in the Russian market.
Russia imposed a one-year ban on food imports from the European Union, the United States, Australia, Canada and Norway in response to economic sanctions western countries introduced against Moscow, blaming it for meddling in Ukraine's internal affairs – claims that Russia has repeatedly denied.
The food ban targets meat, fish, poultry and milk products, as well as nuts, fruits and vegetables.