A group of young people in Kiev decided to celebrate the first day of the Lent with a "Bloody Pastor's Ball" – a performance that was originally aimed at "refuting myths about Nazism in Ukraine". However, the party turned out a bit too real.
Accompanied by a militaristic march, a man dressed as inquisitor approached the public with a Bandera portrait in hands, guarded by a group of masked young people dressed in Hitler-stylized and military uniforms, wielding automatic guns.
"We have to sacrifice a Russian, right?" the "bloody pastor" asked the audience. "Yes" – the crowd shouted unanimously. "We have, of course, all raped him already. And now we will slit his throat. Yes! In the glory of Bandera!" – the leading artist announced. "Get him on knives!" – the public chanted.
A man representing a captive, with his hands tied, was brought to his knees and "executed". A couple of moments later, the "bloody pastor" put an animal liver on the table, saying: "A [Donbas]self-defender's liver. In the glory of Bandera!" "If someone wants to drive a spike in this heart, you're welcome", he added.
Earlier, the notorious BarHot organized a similar performance of "crucifying a boy".
The general idea was to mock myths about and exaggeration of the ideological situation in modern Ukraine. However, it seems the ones who attended the performances certainly crossed a moral line.
The same bar hosted a party with guests slicing and eating a cake depicting a baby lying on the Russian flag.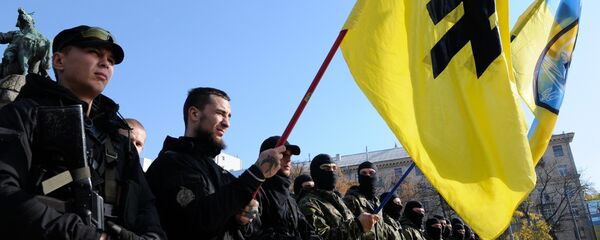 28 January 2015, 14:12 GMT
The Euromaidan coup in Ukraine spawned ultra-nationalist and radical groups such as the Right Sector. When the Donbas conflict flared up, several military "volunteer" battalions, which resort to the Nazi ideology, were organized.
After the difficult February Minsk talks, the official Kiev and self-proclaimed eastern republics reached a ceasefire agreement. However, the Right Sector said it would not recognize the deal. Several videos show the sad ideological background of the military groups that praise Adolf Hitler and Stephan Bandera, a Ukrainian nationalist of the WWII.
Also, Ukraine was one of the three countries (along with Canada and the USA) that voted against the UN resolution condemning the glorification of Nazism.