MOSCOW (Sputnik) — Moscow police confirmed the arrest of Ukrainian parliament member Oleksiy Goncharenko ahead of the march commemorating slain Russian politician Boris Nemtsov on Sunday.
Goncharenko took part in the violent events in southern Ukraine's Odessa on May 2, 2014, when far-right activists blocked anti-EU protesters inside the city's House of Trade Unions and set the building on fire. According to official statistics, the incident killed 48 people and wounded over 250.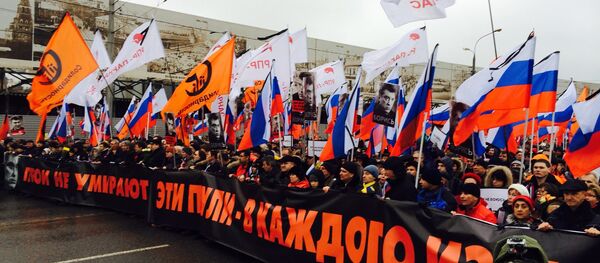 Ukrainian parliamentarian Oleksiy Goncharenko is being questioned regarding crimes against a Russian citizen during last year's tragic events in southern Ukraine's Odessa, which killed 40, the Russian Investigative Committee said in a statement Sunday.
"Oleksiy Goncharenko is being interrogated on charges of crimes against a Russian citizen during the tragic events in Odessa," the statement said.
However, Goncharenko's lawyer told RIA Novosti Goncharenko had been detained for disobeying a police officer during a march commemorating killed Russian opposition politician Boris Nemtsov, Goncharenko's lawyer told RIA Novosti Sunday.
"He is charged with Article 19.3 of the Administrative Code [failure to comply with the legal requirements of a police officer]. Currently he is in the 'Kitay-Gorod' police department, the trial will take place tomorrow," Mark Feygin said.
According to the lawyer, Goncharenko has diplomatic immunity as a Parliamentary Assembly of the Council of Europe member, and has to be released immediately. "In the extreme case, he can be sent to Ukraine," Feygin said.
"He will be handed over to representatives of the Russian Investigative Committee for further proceedings," a police spokesperson said.
Goncharenko posted photos of dead activists in Odessa on Twitter and expressed public support for "cleansing" of the camp of the opponents of the newly-installed Ukrainian authorities.
The politician went to Moscow to attend the march in commemoration of Boris Nemtsov killed on Friday. The investigation of the killing is currently underway.