Ekaterina Blinova — Ukraine's nationalist Aidar battalion was formally disbanded and reorganized into the 24th Separate Assault Battalion of the Ukrainian Ground Forces.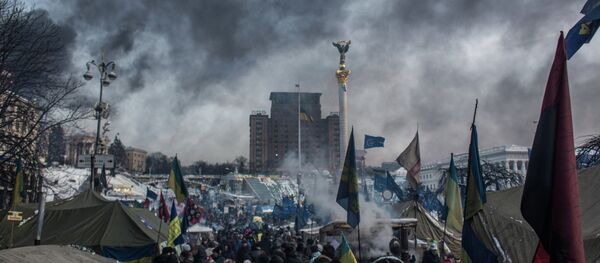 22 February 2015, 06:00 GMT
Spokesperson at the Kiev special operations headquarters Vladislav Seleznev announced Monday that the volunteer Aidar unit was reorganized into a separate battalion of the Ukrainian Ground Forces. According to Seleznev the decision was made due to the urgent necessity to place Ukraine's volunteer battalions under juridical regulation and to prevent illegal activities by Ukrainian volunteer fighters. Evgeniy Ptashnik was appointed as a commander of the newly reorganized battalion.
The Aidar battalion was the only volunteer unit directly subordinated to Ukraine's Ministry of Defense, while other volunteer battalions have been supervised by the Interior Ministry.
The notorious battalion was formed in May 2014 following the Maidan revolution in Kiev and since then has been repeatedly accused of blatant human rights violations in eastern Ukraine.  Particularly, in September 2014, Amnesty International and other human rights organizations publicly slammed Aidar for "widespread abuses, including abductions, unlawful detention, theft, extortion, possible executions."
Last month camouflaged insurgents of Aidar battalion carried out a protest action in Kiev, barricading the building of the Defense Ministry in a response to the official decision to disband the unit.
Burning tires and beating army drums, the militants urged the ministry to cancel the order. Eventually, Ukrainian authorities vowed to "reorganize" the battalion as another entity, adding that the disbanding would not affect the ordinary volunteers. However, Kiev blasted the protesters for "betrayal," referring to the fact that they illegitimately left the battlefield.