The State Department is pressuring EU countries to stop doing business with Russia, yet Russia's trade with the US grew by 7 percent in 2014, Pushkov tweeted.
Госдеп США:"Сейчас не время для бизнеса с Россией". A как же в 2014 торговля США с Россией выросла на 7 %? На ЕС давят,а сами делают деньги.

— Алексей Пушков (@Alexey_Pushkov) 4 Март 2015
"US State Department: 'This is not the time for business with Russia.' How is it that in 2014 trade between the US and Russia grew by 7 percent? They are pressuring the EU, but making money themselves."
Pushkov was referring to a statement by US State Department spokeswoman Marie Harf, who urged European countries not to do business with Russia on Monday, following agreements made between Russia and Cyprus last week.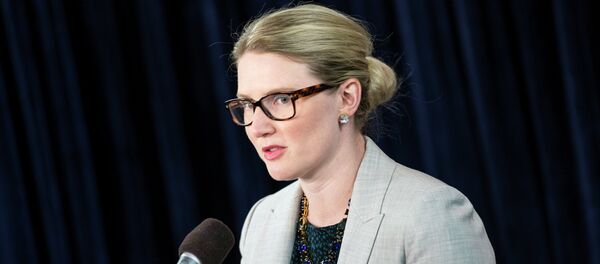 During the visit, Cyprus President Nicos Anastasiades announced that all European Union (EU) member states without exception have experienced the negative effect of Western sanctions against Russia.
Russian-Western relations have deteriorated because of the situation in Ukraine. Last summer, the European Union and the United States imposed sanctions on entire sectors of the Russian economy, accusing Moscow of fueling the fighting in Ukraine. Russia, in response, has banned certain food imports from the countries that imposed the restrictions.