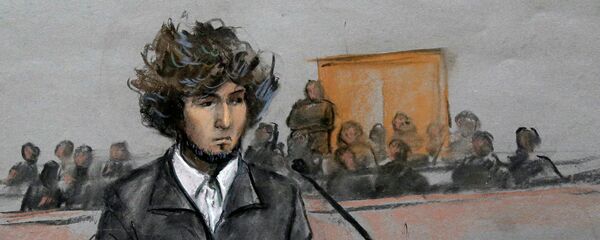 MOSCOW (Sputnik) — Ibragim Todashev, who was shot dead by an FBI agent during an interrogation in May 2013, was an innocent victim of his friendship with Boston Marathon bombing suspects Tamerlan and Dzhokhar Tsarnaev, Todashev's father Abdulbaki said Wednesday.
Todashev reportedly spoke to Tamerlan by phone or Skype for about five minutes around one week before the twin bomb attacks in Boston in April, 2013.
"I hope this investigation will be completed. What happened to me can happen to anybody. There are probably thousands of telephone contacts on my phone, but I cannot be responsible for all of them, if they commit a crime. My son is a victim of a friendship [with them]," he told journalists.
On Monday, Ibragim Todashev's relatives announced their plans to sue the FBI for $30 million.
A member of the Russian Presidential Council for Human Rights, Maksim Shevchenko, who was also on hand at the media conference, said Todashev's killing was "absolutely groundless and unpunished".
"According to the FBI's official version, he allegedly attacked the agents, but, judging by the factual material, he was shot in the back, and it is clear that an attacker cannot receive wounds like these," Shevchenko said.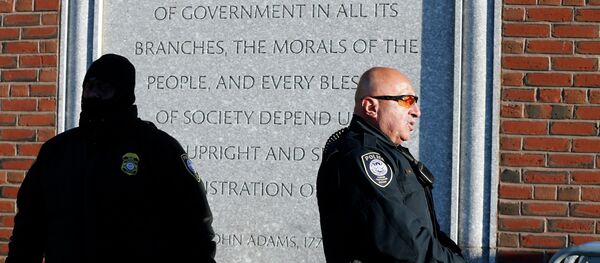 5 January 2015, 13:10 GMT
Todashev was fatally shot by FBI agent Aaron McFarlane on May 22, 2013 during a police interview in connection with the Boston Marathon bombings and a triple homicide in Waltham, Massachusetts in 2011.
McFarlane was cleared of any criminal wrongdoing after a Florida prosecutor and the US Justice Department ruled separately that the FBI agent acted in self-defense.
The trial of 21-year-old suspect Dzhokhar Tsarnaev started earlier on Wednesday. US federal prosecutors are seeking the death penalty for Tsarnaev, who faces 30 charges, half of which carry the death penalty.
Dzhokhar's older brother Tamerlan was killed in a gunfight with police on April 19, 2013, four days after the Boston Marathon bombings.
Three people were killed and at least 264 more injured after two bombs exploded within 12 seconds and 210 yards of each other close to the finish line of the marathon, almost two years ago.