MOSCOW (Sputnik) – The Russian Emergencies Ministry is offering help to Ukraine in conducting search and rescue work at the Zasyadko coal mine, where 9 miners remain missing following an explosion.
"Under the April 23, 1997 agreement between the government of the Russian Federation and the government of Ukraine on cooperation in the field of prevention of industrial accidents, catastrophes, natural disasters and mitigation of their consequences, we are ready to offer any necessary assistance in conducting search and rescue operations," Russian Emergencies Minister Vladimir Puchkov said in a message sent to the Ukrainian Emergencies Ministry.
Puchkov stressed that Russia and Ukraine share years of positive cooperation in the emergencies field.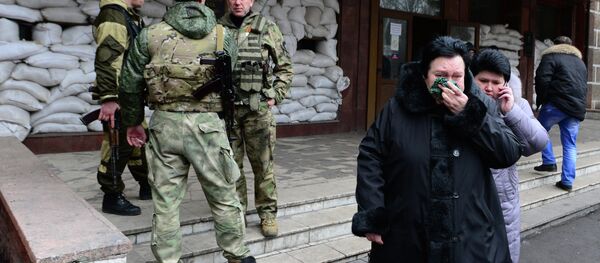 An explosion most likely sparked by methane gas occurred in the Zasyadko coal mine, located in Ukraine's eastern city of Donetsk, on Wednesday morning.
The Emergencies Ministry of the self-proclaimed Donetsk People's Republic (DPR) announced later in the day that the death toll from the coal mine accident was standing at 24, but the fate of 9 miners remained unknown.
According to DPR authorities, a total of 230 workers were in the Zasyadko mine when the Wednesday blast occurred.
Spokesperson for Ukrainian President Petro Poroshenko Svyatoslav Tsegolko announced on Twitter that March 5 has been announced a day of mourning for those who died in the Zasyadko mine.
Numerous accidents have happened at the coal mine, which is Ukraine's largest, in recent years. More than 100 workers were killed in a methane explosion in the Zasyadko mine in 2007, in what became the worst mining accident to take place in Ukraine since 1991.
Since the launch of a Kiev military operation against independence supporters in Ukraine's southeast last spring, Zasyadko workers have been repeatedly evacuated from the mine because of shelling.