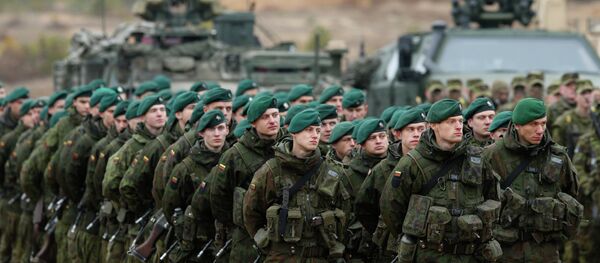 24 February 2015, 16:26 GMT
In her latest Russophobic outburst, Lithuanian President Dalia Grybauskaite called on the Baltic nations to brace for what she described as "Russian aggression," media reports said.
The eyebrow-raising remarks came as Grybauskaite announced that Lithuania will reinstate compulsory military service in connection with "Russia's threats".
"We have realized that the geopolitical situation near our border has changed and that the treat is very real. The threat is real for the entire Baltic regions because we cannot predict actions by our immediate neighbors, namely, Russia," Grybauskaite said.
According to her, the Baltic states are already on the front line, because the first phase of the war with Russia has allegedly begun, thus far in the form of information war and cyber- attacks.
"So we have already been attacked, namely to say, the information war is under way. Will it turn into a conventional confrontation? Nobody knows. But now we have to defend ourselves against this aggressive behavior," she said, in a clear nod to Russia.
The remarks are the latest in a series of gaffes made by the Lithuanian President in relation to Moscow.
On November 20, 2014, Grybauskaite did not think twice before branding Russia a "terrorist nation that should be stopped."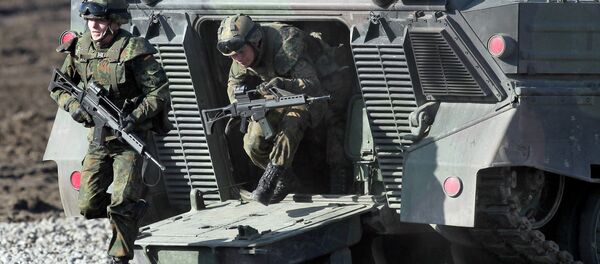 22 February 2015, 11:41 GMT
A day later, she alleged that "Russia is waging war in Ukraine and is denying this."
A month later, she raised many eyebrows after she commented on Lithuanian fighter jets' alleged interception of a Russian transport plane, claiming that "Russia is showing foolishness rather than force."
At the time, Russian lawmaker Nikolai Kolomeytsev called for severing diplomatic relations with Lithuania and slapping sanctions on the country in response to Grybauskaite's impudence and cynicism.
In 2009, the year Grybauskaite was sworn in, Lithuania's TV and Radio commission refused to let the country's radio stations permission carry programs by the Voice of Russia; officials said the move was necessary to guard citizens from the "influence of Russian propaganda."
Russians constituted 5.8 percent of people living in Lithuania as of 2011; the ethnicity constitutes a smaller proportion of the population there than in Latvia or Estonia.