The spacecraft, Dawn, completed a 7 and ½ year journey, as it entered into Ceres' orbit. A signal was sent back to Earth over a 310 million mile distance and scientists began examining whether the aircraft had successfully settled into the orbit surrounding the dwarf planet.
Shortly after, it was confirmed that Dawn entered the orbit at 4:39AM PST on Friday March 6th and the mission was a success.
The spacecraft was approximately 38,000 miles from Ceres when it was captured by the dwarf planet's orbit and is currently sending back signals to Mission Controllers at NASA's Jet Propulsion Laboratory in Pasadena, California.
The purpose of the Dawn mission is to collect data and reveal more information on the mysterious dwarf planet Ceres – a planet discovered over 200 years ago, and yet  still very little  known.
According to Dawn principal investigator Christopher Russell, the mini planet is like a "secretive neighbor."
Scientists estimate that Ceres first took shape around 4 and ½ billion years ago from gas and dust and, unlike other states in the solar system, it froze and simply stopped growing. It is roughly a third the size of our planet's moon.  Ceres was awarded the title of a "dwarf planet" due to its shape and its size – too big enough for an asteroid, but still too small to make a planet. It is one of only five known dwarf-planets, and has now become the first to host an orbiting spacecraft.
On February 19, mission Dawn photographed two bright spots nestled on Ceres's craters, raising even more questions for already curious scientists.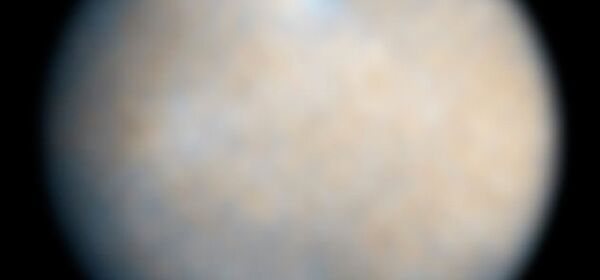 20 January 2015, 10:50 GMT
Among other things, scientists are also hoping to learn more about water presence on the dwarf planet through the data transmitted from Dawn. They believe that Ceres once hosted an icy ocean at its core and are hoping to learn whether that icy core had melted into an ocean or a lake from possible radioactivity inside the dwarf planet.
According to Mark Sykes, another member of mission Dawn, this could raise potentially new and exciting avenues for scientists to uncover. "If water equals like," He said. "Could life have evolved under the surface of Ceres?"
The $473 million mission Dawn launched in 2007 and, while an official end date has not been decided,  it is expected to continue transmitting data on Ceres until mid-2016.