MOSCOW (Sputnik) — The Mykoyan MiG-31 Foxhound supersonic interceptor aircraft will stay in service with the Russian Air Force until 2026, the head of the MiG corporation said Wednesday.
"The MiG corporation is currently developing heavy fighter-interceptor aircraft to replace the MiG-31, but the MiG-31 will remain in service until 2026," Sergei Korotkov told RIA Novosti.
According to the Defense Ministry, the Russian Air Force has over 120 MiG-31 interceptors in service and more aircraft in reserve.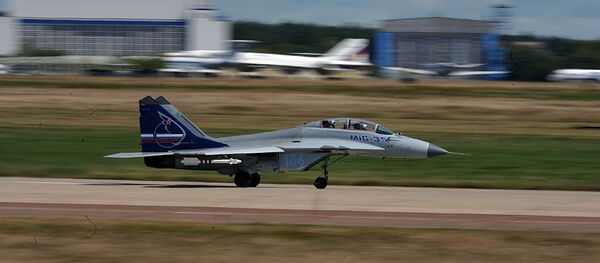 20 February 2015, 16:37 GMT
The MiG-31, the fastest fighter-interceptor in service anywhere in the world, has been the subject of a comprehensive upgrade to MiG-31BM standard.
The upgraded MiG-31 aircraft is able to perform all tasks within a radius of 4,000 kilometers (2,500 miles), Korotkov said.
The MiG-31 is a long-range supersonic interceptor jet. The two-seater aircraft can intercept targets up to 200 kilometers (124 miles) away thanks to its advanced radar and long-range missiles. It can operate efficiently in all weather conditions and is equipped with state-of-the-art digital avionics.
The MiG-31 was first used in the Soviet Air Force in 1981. Production of the aircraft ended in 1994 but it remains in service in the Russian and Kazakh air forces.